New CEOs coming to IMechE and EI
Published: 14/04/2021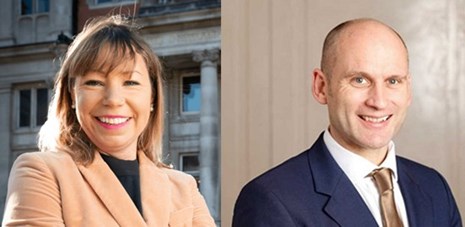 The Energy Institute (EI) and the Institution of Mechanical Engineers (IMechE) are both preparing to welcome new Chief Executives to their organisations. The EI has appointed Dr Nick Wayth CEng MIMechE FEI as its new Chief Executive Officer, while the IMechE has appointed Dr Alice Bunn.

Both professional engineering institutions are licensed by the Engineering Council to assess candidates for professional registration, as well as monitor the conduct and Continuing Professional Development (CPD) of registrants.

The Institution of Mechanical Engineers
The IMechE has appointed Dr Alice Bunn at its new Chief Executive. Dr Bunn has been International Director of the UK Space Agency since 2018, working to increase the UK's global influence in space – covering science, security and trade. She also sits on the World Economic Forum Future Council on space technology, on the Board of Directors at the US Space Foundation and heads up the UK's delegation to the European Space Agency.

Dr Bunn will begin her role in July, as the current CEO Dr Colin Brown retires. Speaking on her appointment, Dr Bunn said:

"I am delighted to be joining the Institution at such a time in world events. Coronavirus and climate change have shown us how mechanical engineers have a vital role to play in helping us adapt to our rapidly changing environment. In my current role at the UK Space Agency, I have seen first-hand the fundamental contribution of engineering to space programmes.

I look forward to working with members and staff to build on the Institution's many achievements, develop its role as a leading voice for the engineering profession, and advocate for the power of mechanical engineering to society at large."

The Energy Institute:
Dr Nick Wayth will begin his new role as CEO of the EI on 4 May, coming from BP where he was the Chief Development Officer of Alternative Energy. The current CEO of the EI, Louise Kingham OBE FEI, will step down after over 20 years heading up both the EI and its precursors. She will become BP's UK Head of Country and Senior Vice President for Europe.

Dr Wyath said of his new role:

"From energy management to ensuring safe and efficient production, from conventional fuels to low carbon technologies, whether in engineering or a host of other disciplines, in the UK or around the world – the EI is a unique and special big tent.

"The EI is held in extremely high regard throughout the industry, it's going to be an honour to take up the reins from Louise Kingham, and a huge responsibility as the pace towards global net zero accelerates. There's much to be done and I'm excited to get to work."

The Engineering Council would like to welcome Dr Bunn and Dr Wyath to their new roles and thank both the outgoing CEOs for their years of dedication and hard work. For more information please visit the IMechE website or the EI website.