Neon – the new website for engineering inspiration 
Published: 09/10/2020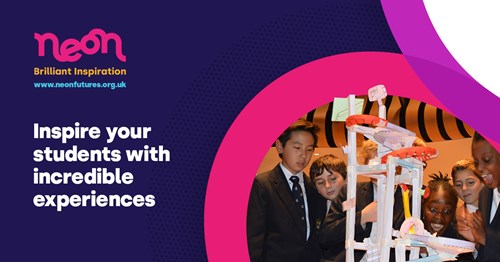 The team behind Big Bang and Tomorrow's Engineers has launched a new engineering outreach website for teachers, career co-ordinators and school leaders. Neon is a digital platform which brings Covid-secure engineering inspiration to students through digital and real-world examples and resources.
EngineeringUK research shows that young people who have taken part in a science, technology, engineering and maths (STEM) careers activity are three times more likely to consider a career in engineering than those who haven't. However, data also shows that during lockdown (March to July 2020) 76% of young people had not engaged in any formal careers activities.
The website neonfutures.org.uk has been developed with the support of the engineering community, with input from teachers to ensure it is practical and useful for busy educators.  Neon empowers teachers with the tools, resources and case studies they need to engage young people in a career in engineering, a sector which makes up 18% of the UK workforce.
Gillian Keegan, Apprenticeships and Skills Minister said:
"Since lockdown, providers of engineering experiences and outreach activities have had to rapidly rethink their offerings so they are Covid-secure. Neon offers a growing list of in-class, online and external experiences which are easily searchable, all quality assured and Covid-secure. Everything from tackling real world engineering problems in class, to live online sessions to create a future city, to creating virtual racing cars are listed and there is also a range of careers resources."
Neon's resources have been curated to be fully inclusive, state learning outcomes, as well as meeting both health and safety and data protection standards. All experiences are aligned to careers information, supporting teachers to hit careers education benchmarks while also showcasing the real-world applications of engineering. 
Hilary Leevers, CEO of EngineeringUK said:
"It is a critical time to provide high-quality careers information that empowers young people, regardless of their background, to make informed decisions about their education and careers. Teachers are key to this and must be supported to deliver impactful experiences even in these challenging circumstances. Neon offers a way for teachers to easily engage with a range of inclusive and diverse engineering experiences, safe in the knowledge that each activity is quality assured, helping young people to form vital links between school learning and real careers."
In addition, the experiences build up students' skills. Neon has worked with Skills Builder Partnership to ensure all details of how different skills apply to individual experiences are clearly listed for users to see. 
David Lakin, IET Head of Education, said:
"Neon has been created to consolidate STEM providers from across the UK into one go-to digital platform. By providing easy access to STEM initiatives, Neon will be able to help support STEM education, experiences and career information in schools and inspire more young people to consider engineering as a career choice to engineer a better world for us all."
To celebrate the launch, there are also films from teachers giving tips to colleagues about how they work to inspire their students and a set of films from early-career engineers. These films aim to break down stereotypes around careers in engineering.
To find out more, visit the visit the Neon website.