More young engineers profiled in #ThisIsEngineering campaign to challenge perceptions of profession
Published: 11/09/2018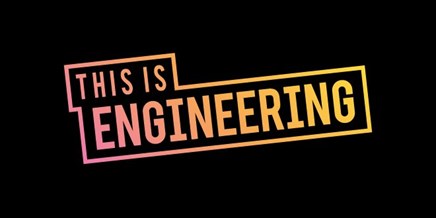 A new season of films launched on 10 September features seven young engineers working in a range of industries, from blockbuster films to disaster relief. These films form part of the next phase of the #ThisIsEngineering campaign to give more young people from all backgrounds the opportunity to explore how they could follow what they love into a varied and fulfilling engineering career.
Season two builds on the first five films in the campaign with seven new role models showcasing a greater variety of engineering jobs, impacts and educational backgrounds. The films bring to life engineering that we rely on every day, engineering that entertains, and engineering that saves lives, and communicate the excitement of roles in start-ups and newer fields of engineering, as well as large engineering companies and more established engineering disciplines. The engineers featured are:
Ala Hammad, 25, is a Civil and Tunnelling Engineer with a passion for the vast buildings and structures we use every day, and…for all things beauty too. Not what you might imagine when you hear the word 'engineer', Ala applies her creativity to both areas, working on incredible infrastructure projects, like Crossrail and High Speed 2, by day, and keeping up to date with the latest fashion and beauty trends in her spare time.
Alan Proud, from Newcastle, didn't want to sit in a classroom or behind a computer. He likes working with his hands and being creative and so his job as a Senior Orthotics Technician making custom braces and splints is perfect for him.
Bethan Murray is 25 years old and grew up in Manchester. She left home at 19 to start an engineering degree apprenticeship with Rolls-Royce in Derby. She then became a Production Manager, responsible for the team that strips down and rebuilds aircraft engines for aircraft helping make flying safe for thousands of people.
Dr Enass Abo-Hamed, from Palestine, is an activist, business woman and entrepreneur. She co-founded H2GO, an engineering company developing new ways to store clean energy at the age of just 28. She completed a PhD at Cambridge University, after taking undergraduate and postgraduate degrees in applied chemistry at the Hebrew University of Jerusalem.
Joshua Macabuag, from Romford in Essex, didn't know much about engineering when he chose to study it at university. This started him on a journey that would take him to earthquake and tsunami zones around the world, to use his skills as a structural engineer to help people affected by natural disasters.
Sonya Teich loved drawing and making up stories as a child, and she also loved maths. Bringing together these two interests seemed impossible until she completed a degree in Engineering and Computer Science, and landed her first job working for Disney Animation as a Visual Effects artist. Now Sonya works as a Lead Effects Technical Director at Framestore in London, managing a team of visual effects artists. 
#ThisIsEngineering was created in response to significant demand for engineering talent in the UK – according to the latest EngineeringUK figures the annual shortfall is up to 59,000 - and narrow public perceptions of engineering and engineers. The campaign will help to reset the conversation about engineering, appealing to young people's passions for subjects such as sport, technology and design, and illustrating through social media that the profession is diverse, challenging and creative.
The campaign launched in January this year and the first series of films have been viewed more than 16 million times by teenagers on social media. A survey of more than 1,200 young people before and after the campaign launch indicated a 41 per cent increase in the number of teenagers who said, after seeing the campaign, that they would consider a career in engineering.
#ThisIsEngineering is led by the Royal Academy of Engineering, in collaboration with EngineeringUK, and with the generous support of corporate partners. More information about the campaign is available at www.ThisisEngineering.org.uk.
For more information please contact: Victoria Runcie at the Royal Academy of Engineering Tel. 020 7766 0620; email: Victoria.Runcie@raeng.org.uk