Lottie embarks on her fifth #WESLottieTour
Published: 11/05/2020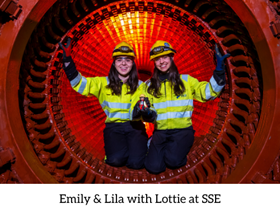 For the fifth year running, members and supporters of the Women's Engineering Society (WES) will be posting photos of Lottie Dolls at work during Tomorrow's Engineers Week (November 2020) to show the huge range of careers available in engineering.
During the week, photos will be posted on Twitter, Facebook, LinkedIn and Instagram with the hashtag #WESLottieTour. We also encourage volunteers to produce video content, as platforms such as TikTok and YouTube are very popular amongst primary age students.
The aim of the project is to present images of what a career in engineering might look like by use of a Lottie Doll to help capture the imagination of young girls and boys. The plan is for parents, grandparents and other family members and friends to share the online photos with the young people in their lives who may not have access to social media, so that this sparks an interest in engineering.
Lottie Tour has grown massively in the past few years, starting with only ten volunteers in its first year, to over 170 in 2019. Lottie has continued to capture the imagination of hundreds of people throughout the UK and beyond, travelling to many countries including USA, Malawi and Antarctica. This year, WES has launched a new website for the WES Lottie Tour, where you can find further details.