IET@150 STEM Personality of the Year
Published: 29/07/2020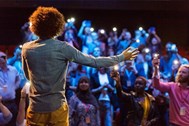 As part of the upcoming 150th anniversary of the Institute of Engineering and Technology (IET), they have launched an exciting one-off award.
The STEM Personality of the Year Award aims to recognise a person or group who are making a difference to our world. They could be helping local communities, fighting global challenges or benefiting society anywhere in the world, through a direct or indirect association with engineering or technology. They should be STEM role models for young people, highly regarded in their field and excellent communicators.
They can be any nationality, from any country of residence, and don't need to be an IET member. Self-nominations are not accepted, and previous IET award recipients, Presidents and Trustees are excluded. Nominators will be entered into a prize draw to receive an Apple iPad 32GB (UK RRP £349)*. Nominations close on Friday, 28 August 2020.
For more information and to submit a nomination, visit the IET website.