ICES New Professional publishing competition
Published: 19/06/2018
The Chartered Institution of Civil Engineering Surveyors (ICES) New Professional Publishing Award showcases talent of an individual with less than five years' experience and who is in the early stages of their career. The author of the winning entry, published in Civil Engineering Surveyor, will be awarded a certificate plus £250.
The award was conceived by Robert Horne, a successful construction legal practitioner. Robert was presented with the first ever commercial management publishing award and rather than accept the prize money, he suggested using it to fund an award for new professionals.
He explained, "I very much believe that those of us who have managed to 'climb the ladder' within the industry have a duty to
make sure that the ladder still reaches the ground and that all the rungs are in place (or replaced) to allow the next generation to climb behind us. I want to encourage tomorrow's talent today. Getting the first opportunity to write and be published and recognised for that contribution is a difficult but important rung on the ladder which I would like to help enable."
Robert is keen to encourage a new ICES professional not only to raise their profile within their own organisation but within the wider industry. Being published in the monthly publication, Civil Engineering Surveyor, can help an individual take the first steps on that journey.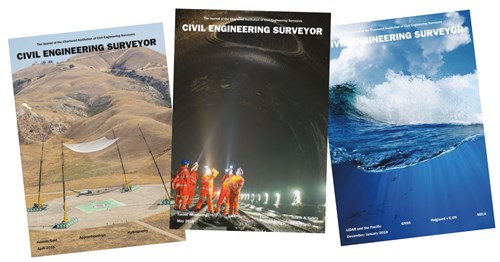 Entrants are required to write 1,200-1,500 words on 'How can we do it better?' within the field of commercial management. The 'it' is left entirely to the writer's discretion.
Judges will consider the following questions when reviewing each of the shortlisted articles:
• Is the article entertaining and well written?
• Does the article contribute to and improve the general reader's knowledge of the subject area?
• Does the article raise points the general reader would not ordinarily consider?
• Does the article encourage interested readers to find out more or debate the issues raised?
• Does the article stand out considering the early career stage of the entrant?
Terms and procedures
Applicants must be new to the civil engineering industry with less than five years' experience. Articles are to be submitted to Darrell Smart, Editor-in-Chief (editor@cices.org) by the deadline 31 July 2018. Late entries will not be considered.
The prize is open to applicants of all ages who are either members and non-members of ICES.
The prize covers a single article which must be the author's own work.
Full entry details can be found on the ICES website.