Hawley Award nominations are open
Published: 28/01/2019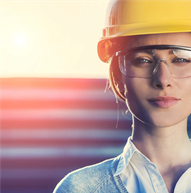 A prize of up to £5,000 is available for an outstanding engineer, whose innovative work has demonstrable benefit to the environment.
Since 2006, the Hawley Award for Engineering Innovation has rewarded environmentally sustainable innovation by early career engineers. The award is made by The Engineers Trust, the trust fund of the Worshipful Company of Engineers, who this year have partnered with BRE Trust to encourage nominations that reflect the diversity of the engineering profession.
The successful innovation will have clear demonstrable benefits to the environment and have been undertaken after gaining a degree from a recognised UK university or during study for a post-graduate degree (work undertaken for a Bachelors or Masters will not be eligible). It must also be at a stage where a prototype has been developed, or proof of concept has been demonstrated, with an expectation that the technology will be developed commercially.
In addition to the cash prize to be used in developing their career, the winner will also receive a medal and certificate, to be presented at the Worshipful Company of Engineers Award dinner in July.
In order to qualify, nominees must be a resident of the UK and a current member of a recognised professional engineering institute at graduate level or above. They must also be in the early stages of their career in industry or academia, typically the first 10 years. While the award is designed for an individual, small teams may be considered if the innovation demonstrated is multi-disciplinary.
Nominations are now open for the 2019 Hawley Award and close on 5 April 2019. More details and the application form can be found on the BRE Trust website.