Government consultation on the Hackitt Review – open for responses
Published: 07/06/2019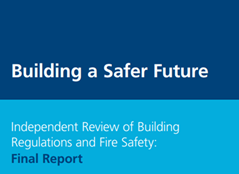 The Ministry of Housing Communities and Local Government (MHCLG) has now published the consultation Building a safer future: proposals for reform of the building safety regulatory system, which sets out how government intends to take forward the recommendations made by Dame Judith Hackitt's Independent Review of Building Regulations and Fire Safety through meaningful legislative reform.
This follows on from the work of the Competence Steering Group (CSG), in which the Engineering Council and many of the professional engineering institutions were closely involved. The consultation sets out proposals for a more effective system and invites views which will help to inform how government will legislate for an implement the changes. This includes proposals for an overarching system for competence oversight, as part of a suite of measures that Government proposes to introduce to improve building safety.
The Secretary of State has also made a Written Ministerial Statement to Parliament, which is available on Parliament's website.
The consultation invites views from industry, the engineering profession and other stakeholders and is open until 31 July 2019.