"Fit for the Future" – EPC Annual Congress Congress 2018
Published: 25/05/2018
The Engineering Professors Council's (EPC) Annual Congress held on 14–16 May 2018 at Harper Adams University considered whether present day higher education in engineering is fit for the future and explored how teaching, research and relationships with industry can meet the challenges of a fast-changing world. There was an exciting selection of speakers from academia and industry with wide ranging views on the subject over the three days.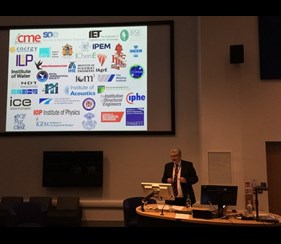 Alasdair Coates, Engineering Council CEO, presented on "Fit for the Future: Pathways to Practice" at the Congress on the third day.
Alasdair's presentation explored pathways to registration, degree accreditation and associated myths ending with an invitation to input into the upcoming review of Engineering Council Standards.
Alasdair began his presentation with an overview of the Engineering Council, describing its remit, its make-up and its vision that "Society continues to have confidence and trust in the engineering profession" and mission "To maintain internationally recognised standards of competence and commitment for the engineering profession, and to license competent institutions to champion the standards for the deliverance of public benefit".
He identified the diverse pathways available for individuals and expounded on the purpose and benefits of accreditation. Alasdair also addressed what he considers the biggest myths in and around accreditation. It's an outcome-based exercise so there's more room for flexibility than some may realise. He emphasised that "We need engineers with a broader range of skills beyond their technical competence".
After a list of the points under consideration in the Accreditation of Higher Education Programmes (AHEP) review, Alasdair covered the subject of higher apprenticeships. Alasdair also asked the engineering community to engage with making choices on international recognition, individual expectations and flexibility on barriers and share best practice.
Kel Fidler CEng HonFIET FREng, a key member of the curriculum advisory team with New Model in Technology and Engineering (NMiTE), followed Alasdair's speech and described the history of the accreditation process and how we got to where we are today. Kel had clear thoughts on Higher Education's approach and challenged whether it was really matching today's needs. Above all he emphasised the need to ensure the education system is able to supply well prepared graduates for today's engineering industry. Kel was also keen to ensure that the accreditation approach taken by awarding bodies was consistent and clear.
Alasdair thanked Kel for his presentation and ended the session with a call for further engagement into the review of AHEP by interested parties emailing comments to edskills@engc.org.uk and participating in the Engineering Council's Standards Review consultation.