Engineers apply whole systems approach to sustainable living
Published: 01/07/2020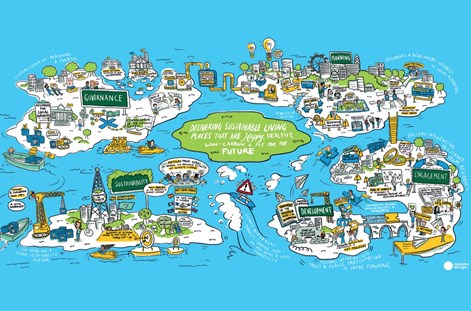 A new report published by the National Engineering Policy Centre (NEPC) maps out a route to more sustainable housing and infrastructure which benefits both society and the environment.
'Sustainable living places – a systems perspective on planning, housing and infrastructure', published June 30, was delivered in partnership with the Infrastructure and Projects Authority and NEPC, which is led by the Royal Academy of Engineering (RAEng). The report examines the UK's legal target of net zero greenhouse gas emissions by 2050, addressing this goal in the light of the estimated 300,000 new properties needed to meet current UK housing demand.
Engineers and professionals working in housing, planning and infrastructure developed a shared understanding of the current situation. By applying whole systems thinking to these challenges, engineers worked with community leaders, town planners, economists and sociologists to pinpoint areas where changes can create the most effective impact.  
Professor Alan Penn, Chief Scientific Adviser, Ministry of Housing Communities and Local Government (MHCLG), said: "I welcome the effort that has been put into distilling a dauntingly complex field into a navigable landscape. No doubt there is still much to be done, but this report certainly will help policy makers and decision takers to move in the right direction." 
Using a participatory systems approach, engineers and professionals representing the multiple disciplines across the system of housing, planning and infrastructure, worked together to develop a shared understanding of the current system of the process. Engineers worked in collaboration with economists, planners, sociologists and community leaders to provide an independent, big picture view of the whole process. Together they created a detailed map that captured challenges and identified opportunities for change. The report identifies key elements of the system and how they impact and interconnect with one another, and pinpoints areas where change can be most effective.
The report identified a number of key leverage points for positive change:
Encouraging the development of a sustainability agenda to support progress towards the target for net-zero greenhouse gas emissions to catalyse a coherent cross-government plan for housing, infrastructure and placemaking. This agenda would call for better integration between national and local planning policies for delivering places. At a local level, it would mean that development frameworks and local plans are aligned with this national sustainability agenda.
Facilitating support for local planning and better masterplanning to enable planning across local authority boundaries as well as efforts to level up by addressing regional disparities in productivity and access to social infrastructure.
Providing a flexible funding model to enable holistic business cases for place that can be administered nationally or locally. These would account for factors that enable high-quality developments, meet demands for public services and actively engage residents in delivering places.
Providing technical and financial support to planners in local authorities to address internal barriers to delivery. This includes resources for increasing the number of staff and providing technical and administrative capacity for existing staff.
Harnessing the power of data sharing to improve access to information about the planning process. This would include platforms for digital collaboration that can enable meaningful interaction and communicate the value of high-quality development to existing communities as well as empower those who are unable to access the planning process.
Tim Chapman FREng, Fellow of the Royal Academy of Engineering, Director at Arup and Chair of the Sustainable Living Places Working Group, said:
"While there are no 'silver bullets' to solve the UK's housing crisis, we hope this report inspires a shared understanding and brings together multiple disciplines and views to tackle the complex system-of-systems of planning, housing and infrastructure. The report shows how a cross-sectoral effort to work with government can succeed in embedding low carbon modes of transport and utilities into place-making and enable real progress in reducing carbon emissions."
The full report can be downloaded from the RAEng website:
www.raeng.org.uk/sustainable-living-places