#EngineerOnAMission, 5-9 November
Published: 06/09/2018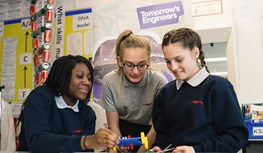 Engineers featured in the campaign will focus on topics young people care about, including saving the environment, animal welfare, staying safe, health and entertainment.
Sharing stories of young engineers using their skills to solve some of the world's biggest issues, the theme of #EngineerOnAMission will help to inspire future engineers and showcase the exciting aspects of engineering. A series of short films and social media content will be created, and attendees will be encouraged to create their own #EngineerOnAMission films and share them on social media.
Part of the Year of Engineering, the week also includes a Big Assembly which will feature engineers on a mission to make the world a better place, showcasing inspiring stories of engineers working for high profile charities, companies and causes. The assembly will be live streamed to thousands of students across the UK for a unique, immersive and educational experience. Schools are encouraged to get involved and can register at bigassembly.org
Download the toolkits to get involved.