Engineering ethics - give your views by 15 July
Published: 17/06/2022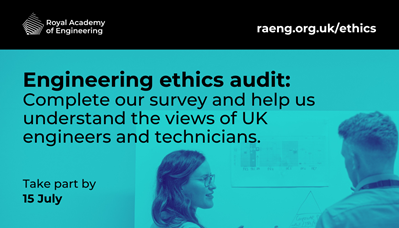 If you're working in the UK as an engineer or technician, the Royal Academy of Engineering (RAEng) want to hear your views and experiences of ethics in engineering. The survey will help create a benchmark to inform future work, to maintain confidence and trust in UK engineering firms and individuals.
The survey looks at:
▪ Part 1 - your own behaviours and motivations.
▪ Part 2 - how your workplace affects your behaviours and motivations.
▪ Part 3 - the values and behaviours that in practice seem important in your workplace

and all responses are anonymous.
The Engineering Ethics Audit is one of the actions from the 'Engineering Ethics: Maintaining society's trust in the engineering profession' report. 

The report, published by the Engineering Ethics Reference Group (EERG, a joint group of the Engineering Council and RAEng), aims to help ensure ethical culture and practice become embedded in the engineering profession. You can find out more about EERG, watch the launch webinar for the 'Engineering Ethics' report and read the 'Statement of Ethical Principles' on our Ethics page.

To help understand how ethics is currently embedded in UK engineering and to identify any gaps in ethical practice, RAEng wants to hear about your views. It should take no more than 15 minutes to complete the survey, for which the deadline has been extended, to share your experiences.
Take the survey, which closes on 15 July.