Chartered Engineer subject of "The Life Scientific"
Published: 27/02/2018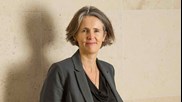 Ailie MacAdam CEng FICE MIChemE, a British engineer who played a key role in both the transformation of St Pancras station and the Crossrail project, was the guest on today's edition of "The Life Scientific" on Radio 4.
Ms MacAdam is a Chartered Engineer, a Fellow of the Institution of Civil Engineers (ICE) and a Member of the Institution of Chemical Engineers (IChemE). She was listed in the Top 50 Influential Women in Engineering in 2016 by the Women's Engineering Society (WES) and during her time at Crossrail recruited a top team of engineers, of whom 30% were women.
Currently global rail sector lead at Bechtel, her career has included a sewage treatment plant in Stuttgart and the Boston Big Dig, before returning to the UK to work on the creation of a new international terminal for Eurostar at St Pancras.
"The Life Scientific" was broadcast today and is available on the BBC iPlayer.