Call for data driven change on diversity and inclusion from Royal Academy of Engineering
Published: 03/12/2018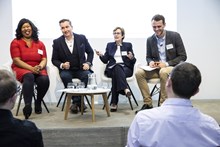 A 'Data Driven Culture Change' event by the Royal Academy of Engineering called on engineering organisations to increase their use of data to measure and improve diversity and inclusion (D&I) in the profession. Speakers discussed the benefits of a data driven approach for both large and small companies, the potential for data and artificial intelligence to improve workforce diversity, and how to maximise diversity.
Designed specifically for use by professional bodies, the D&I Progression Framework is a tool to help track and plan progress on D&I across eight areas of activity, including accreditation and examination, governance, prizes, awards and grants.
John McCollum, Engineering Director at BAE Systems and member of the Academy's Diversity and Inclusion Leadership Group Steering Group (DILG), said: "Measurement of diversity and inclusion is crucial to effect change across the engineering profession. The profession needs to become better at measuring diversity and inclusion to target interventions and actions, and make meaningful progress." See slides and resources from the event. 
See the Academy's press release for more information.