Build the future: National Apprenticeships Week
Published: 08/02/2021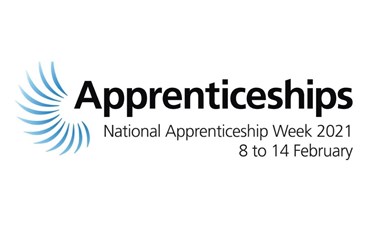 February 8-14 is National Apprenticeships Week in England. This government initiative, now in its fourteenth year, celebrates apprenticeships and showcases the work being done by apprentices of all ages and stages of learning. Apprenticeships combine both on-the-job experience with academic study, allowing apprentices to earn a wage and work towards a degree simultaneously.

Apprenticeships are now available from (GCSE equivalent) Level 2 through to Level 7, which is equivalent to a Masters degree. As well as being a great way into a career in engineering, approved or accredited engineering apprenticeships can also lead to professional registration, demonstrating engineering competence and commitment to an internationally-recognised standard.

National Apprenticeships Week is also an opportunity to highlight the many benefits apprenticeships offer both employers and individuals. This year the theme is 'Build the Future' – reflecting how apprenticeships can help employers build a workforce with future-ready skills, and help individuals begin skilled and rewarding careers. This year's apprenticeship week will also recognise how employers of all sizes have stepped up during the huge disruption caused by the Covid-19 pandemic.

The government's apprenticeships website includes information about becoming an apprentice and how to apply, as well as guides for employers about how to hire apprentices, fund an apprenticeship programme and find the right apprenticeship for their organisation.

Throughout the week, the Engineering Council will be sharing case studies on social media from professionally registered engineers and technicians who are former apprentices:



Keith Brian McGrath PhD CEng MInstMC is Director of PremTech Ltd, an engineering consultancy company in the energy industry. Keith never had any thoughts of carrying on in education after leaving school at 16, but started an apprenticeship at Marconi Radar and has worked in engineering ever since. Keith says: "I have enjoyed the engineering journey I've been on, and though I probably have not taken the usual route to becoming a Chartered Engineer (CEng), I've always been employed since leaving school. All my further education has been by part-time study, gaining the theory side and practical side throughout my career."

As well as his CEng registration, Keith now holds a PhD in nano engineering, which he worked on part time over a period of six and a half years.



Jamie-Leigh Clayton IEng MIET is an award-winning engineer, working in Electrical Control & Instrumentation (EC&I) at construction firm Jacobs. She says: "Starting as an apprentice, it [professional registration] was something that we were encouraged to do from the get-go. Our apprenticeship scheme was accredited by the [Institution of Engineering and Technology, the] IET which enabled us upon successful completion to apply for Engineering Technician (EngTech) registration. We were then encouraged to start gathering evidence for Incorporated Engineer (IEng) and CEng registration. Knowing that professional registration provided current and future employers with confidence in our competence meant it was something that I was very interested in."



Danny Steel BEng (Hons) IEng MIMechE is a Design Engineer at TEAM Inc. He says: "Towards the end of my A levels, I was presented with the opportunity of university or a higher apprenticeship in engineering, with the promise of this eventually leading to a mechanical engineering degree. I opted for the apprenticeship, given that this would allow me to apply what I was learning and set a solid foundation from which I could begin developing my career."

"I have worked within the engineering department of TEAM for almost seven years now, and through this time I have progressed from an Undergraduate Engineering Apprentice, to Design Draughtsman, and now fulfil the role of Design Engineer."



Bethany Holroyd EngTech MICE is a UK Health and Safety Advisor at WSP and was one of the Women's Engineering Society (WES) 2019 Top 50 Women in Engineering: Current and Former Apprentices (WE50). She says: "When I secured my apprenticeship, I was lucky enough to be at the forefront of the big push for technicians back in 2011. I met the past President of the Institution of Civil Engineers (ICE), Jean Venables, and she encouraged me to pursue registration as an EngTech. I'd had a lot of support from my peers at work too, so I knew it was the right thing to do."



Steven Gasser EngTech FIMechE is Associate Director, Regions at The Institution of Chemical Engineers (IChemE). Having started his engineering career as an apprentice, he recommends apprenticeships to others, saying: "They are fantastic and allow an apprentice to explore their full potential, to start building a career and gain skills that will last a lifetime. Anyone with a desire to learn and improve themselves would benefit from becoming an apprentice and if you make the most of your apprenticeship, industry will make the best of you. I stumbled into engineering by chance but, once there, I absolutely loved it and I would recommend it as a career to anyone."

Professionally registered engineers and technicians also take part in developing and mentoring apprentices:



Carmen Muriana Cobo MEng MSc MAGIPic CEng MICE is a Surface and Highway Structures Engineer within Transport for London (TfL) where she mentors apprentices. She says: "I have also been able to inspire the next generation of engineers within TfL through summer placements, apprenticeships and through the Engineering Accreditation Review Network (EARN) group ... I help to manage graduates, apprentices and student placements within my team."



Callum O'Connell EngTech MICE is a Highways Engineering Technician with Arup. Since the introduction of the NVQ pathway for new apprentices, he has mentored new starters. He says: "Arup has a great attitude to the development of young apprentices and technical trainees, providing complete support in the growth of their staff from school leaver to young professional. I would recommend the apprentice route to anyone wanting to get into civil engineering because of the academic knowledge you gain, but most importantly the real-world engineering skills that you pick up while at work."

Find out more about professional registration for apprentices, students and graduates.

Visit apprenticeships.gov.uk