Supporting STEM - could you be a Big Bang judge?
Published: 03/02/2022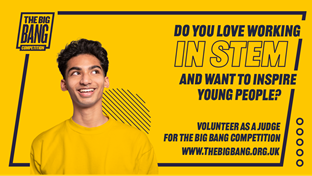 Volunteering offers the chance to give back to your profession, while supporting the ambitions of young engineers and scientists of the future.
The Big Bang Competition is recruiting for volunteer judges and moderators, offering the chance to help discover the next generation of engineers and scientists.
Celebrating curious minds, The Big Bang Competition rewards young people's achievements in all areas of science, technology, engineering and maths.
Competitors enter their projects online for the chance to take part in the finals, and compete for amazing prizes and accolades, including the chance to become UK Young Scientist of the Year or UK Young Engineer of the Year.
Big Bang is looking for volunteers who are reliable, enjoy supporting and inspiring young people, and have:
a STEM background
an ability to communicate and provide positive feedback for young people
impartiality and analytical skills to assess STEM-based projects.
Volunteers will need to commit up to 10 hours over four weeks, between 14 March and 14 April 2022. The deadline for applications is Friday 4 March 2022.