Australian Maritime Safety Director to take up IChemE Deputy President role
Published: 20/05/2020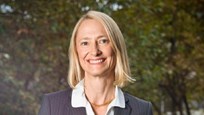 The Institution of Chemical Engineers (IChemE) has announced that Jane Cutler, currently a Non-Executive Director with the Australian Maritime Safety Authority, has been elected by the membership to take up the position of Deputy President from June.
Cutler will be presented for formal election as IChemE Deputy President at the Annual General Meeting (AGM), which this year will unusually be held as a virtual meeting on 15 June 2020. Iain Martin will also be presented for re-election as Honorary Treasurer.
Cutler was elected with 48.5% of the votes cast in the Deputy President election, which took place from 6 April-6 May 2020, and will succeed Stephen Richardson as the 80th President of the Institution in June 2021. David Lynch and Christina Phang, the other candidates in the election, both offered warm congratulations to Cutler and their support to her as she takes up the new role.
An IChemE Fellow, Cutler is an active volunteer member with the Institution. Currently Vice Chair of Congress and the IChemE Energy Centre, she will step down from these roles upon taking up the role of Deputy President. 
With more than 30 years of board and senior executive experience across public, commercial and not-for-profit sectors, with particular expertise in the resources, oil and gas, financial services, maritime, environment and technology industries, Cutler is passionate about making operations more sustainable. She is also a Non-Executive Director of Southern Ports Authority, Western Australia, and a member of the West Australian Division Council of the Australian Institute of Company Directors. Her previous roles include CEO of the National Offshore Petroleum Safety Authority and various senior executive positions in corporate entities in the resources sector in Australia, including at Woodside, BHP and Esso.
IChemE's AGM will take place at 08:00 BST on 15 June 2020. Any IChemE member can register for and attend the virtual meeting. Only Voting Members (Chartered and Fellows) will be entitled to vote on the day. Voting Members will be sent a formal notice ahead of the meeting.
For more details, please visit the IChemE website