Another successful Big Bang Fair in 2019
Published: 11/04/2019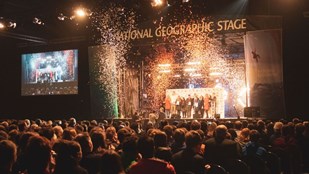 The 2019 Big Bang Fair has been celebrated as a success, with over 70,000 people attending the event at the NEC in Birmingham.
Over the course of two days, 62,000 young people from around the country, their parents and teachers enjoyed demonstrations and hands on experiments with experts from across the Science, Technology, Engineering and Maths (STEM) subjects.
For the first time, Q+A sessions titled "Meet the future you, live on stage" gave students an opportunity to speak face to face with panels of scientists and engineers, whose specialisms ranged from genetic counselling to sustainability leadership.
A regular highlight of the fair is the Big Bang competition. The 2019 edition celebrated 540 young people from 154 schools and showcased a record 209 projects. Grace Lord, Brendan Miralles and Aalia Sellar, all 14, from the East Midlands, were crowned GSK UK Young Engineers of the Year 2019 for their joint project entitled "Music Splash". In their project, the students created an app that uses machine learning to analyse music performance and provides feedback to help you improve. Entries are open for the 2020 Big Bang Competition, with schools and students are encouraged to get started on their projects.
Dates have been announced for a series of regional events, as the Big Bang Fair programme continues throughout the year.