T levels
Published: 28/11/2019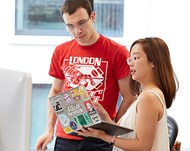 T levels are new qualifications being introduced from September 2020. They are two-year courses designed to be equivalent to three A levels, with a technical focus.
Universities should therefore expect to receive applicants for 2022 entry from candidates completing these programmes, for which Universities and Colleges Admissions Service (UCAS) points will be allocated based upon the overall T level grade.
There has been some involvement of professional engineering institution representatives on panels involved in developing these qualifications.