Compensation and condonement
Published: 28/11/2019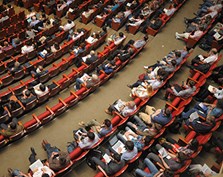 Accreditation panels and committees have increasingly found that university regulations related to student progression may permit students to graduate without achieving all the learning outcomes required from an accredited degree.
The Engineering Council introduced new rules on compensation and condonement, late last year. These rules are intended to ensure that all students graduating from accredited degrees achieve the learning outcomes expected by the profession.
These requirements will apply to all students joining the first year of an accredited programme from September 2022. Additional information is available in a guidance note on compensation and condonement.