Accreditation of Higher Education Programmes (AHEP)
Published: 25/03/2020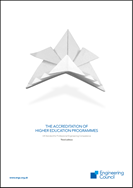 The fourth edition of AHEP is expected to be published during the 2020-2021 academic year.
Following publication there will be a transition period, during which providers can request accreditation against the old (third) or new (fourth) edition of the Standard.   
This follows consultations on AHEP carried out as part of our five-yearly Standards Review. A summary of responses to this second round of consultations is available on our website.