Participate in the UK-SPEC and AHEP consultations
Published: 08/05/2018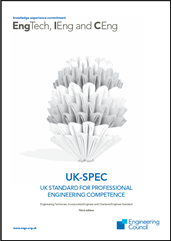 The UK Standard for Professional Engineering Competence (UK-SPEC) and Accreditation of Higher Education Programmes (AHEP) are reviewed on a five-year cycle by the Engineering Council as part of an overall Standards Review. The collaborative review board is made up from institutions and universities representing the breadth of the profession from industry and academia, and the many different disciplines and specialisms in the world of engineering.
This year Standards Review working groups are reviewing six specific areas: Registration, Registration Code of Practice, Apprenticeships & Qualifications Standard, Higher Apprenticeships Policy and the areas we are concerned with here; UK-SPEC and AHEP.
The men and women who aspire to be recognised as professional engineers and technicians require independent assessment of their competence and commitment, and the standards specified in UK-SPEC provides the means to achieve this. It is important that the document is up-to-date, fit for purpose and references evolving technology.
AHEP sets out the standard for programme outcomes, degree accreditation and refers to the application process for universities that wish to secure or maintain accreditation of their programmes. The Engineering Council sets out the overall requirements for AHEP in line with UK-SPEC resulting in the same outcomes-focused approach, so the AHEP and UK-SPEC reviews will be inter-related.
The UK-SPEC and AHEP working groups are specifically looking at pathways to registration, the competence statements for Chartered Engineers, Incorporated Engineers and Engineering Technicians, and factors affecting engineering practice.
We expect to launch the first consultation stage on AHEP and UK-SPEC in late spring 2018­­­ and start drafting documents for PEIs to review based on the responses received. The consultation will proceed with further reviews and drafts, aiming for publication and launch in 2020.