Report highlights importance of continued access to engineering skills post Brexit
Published: 24/11/2016
A report published on 17 October by the UK engineering profession hails the government's renewed focus on industrial strategy as a major opportunity to help the UK compete on the world stage, but warns that Brexit must not restrict access to the engineering skills from across Europe on which our economy relies.
Engineering a future outside the EU: securing the best outcome for the UK has been compiled by an alliance of the UK's professional engineering organisations led by the Royal Academy of Engineering and representing over 450,000 engineers. It draws on wide-ranging consultation with engineers from all corners of the profession, including from academia, industry and the public sector. As part of this consultation senior engineering academics discussed the specific needs of engineering academia and students at a focused workshop. At this workshop the Engineering Council was able to confirm that Brexit would not impact upon requirements for degree accreditation, or on international recognition of accredited UK engineering degrees.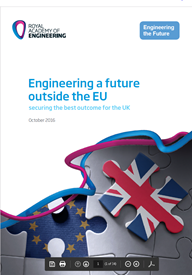 The report highlights the challenge that Brexit could present to the supply of skilled engineers from the EU, who are essential to maintaining the world-class quality and success of UK engineering companies and universities. In academia, engineering has proportionally more staff originating from the EU (15%), than across all subjects as a whole. Research identifying where UK students originate from reveals that 68% of engineering and technology postgraduates in the UK are international, of which almost 17% are from EU countries, other than the UK. This compares with the 12% average of UK postgraduates that originate from the EU, across all other subjects[1].  
The report also notes that innovation is critical to the UK's economy and productivity[2], as sectors with high concentrations of graduate engineers report greater than average levels of innovation activity and innovation-related income alongside greater productivity[3].The document emphasises that the UK has a globally excellent and highly productive research and innovation base, to which EU support and collaboration has significantly contributed. It warns, however, that losing access to EU research and innovation funding programmes would pose a considerable risk to the quality and quantity of UK research and innovation, and in turn to UK GDP. It therefore recommends that government seeks the closest achievable association with relevant EU programmes, and develops long-term funding streams that complement current funding by encouraging international mobility and collaboration, particularly between industry and academia
Throughout the consultation process, one opportunity was pointed to repeatedly: the development of a new industrial strategy, in partnership with academia and industry, as a route to enabling engineering to maintain and increase its contribution to economic development and social progress after the UK leaves the EU. Key recommendations to government include that it ensures that talented students, academics and practising engineers have certainty about the opportunities to study and work in the UK, and to enhance support to UK students academics and practising engineers to gain international experience, including in the EU.
Professor Dame Ann Dowling OM DBE FREng FRS, President of the Royal Academy of Engineering commented: "For many we have consulted over the last two months, plans to trigger Article 50 raise questions about our ability to train enough skilled engineers to meet the country's needs, to attract the brightest and best international talent to the UK to address specific skills shortages, and to collaborate with colleagues in non-UK European Union countries in a way that accelerates innovation that is of value to wider society.
"As government develops its plans for a renewed focus on industrial strategy, we hope it will use this opportunity to build on the UK's existing strengths in engineering research, innovation and industry to grow their contribution to economic and social progress, and to invest in increasing the supply of skilled engineers necessary to sustain this growth."    
The full report and an executive summary of its findings are available to download at www.raeng.org.uk/UKEngineeringFuture.
The engineering profession's response to the EU referendum was published by the Royal Academy of Engineering through the Engineering the future (EtF) policy group. More information about EtF is available at engineeringthefuture.co.uk/ 
[1] HESA data, accessed 28 September 2016, nationality of undergraduates and postgraduates, 2014/15
[2] Investing in Innovation, RAEng, 2015, p2
[3] Assessing the economic returns of engineering research and postgraduate training in the UK, Technopolis Group, 2015