Positive employment outcomes for engineering graduates
Published: 21/11/2016
Engineering graduates demonstrate very high employment outcomes following graduation according to a new report published by the Royal Academy of Engineering (RAEng), with 81% in full-time work, pursuing further study or a combination of both within six months of graduation.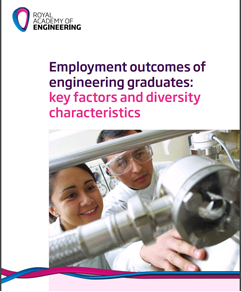 Employment outcomes of engineering graduates: key factors and diversity characteristics provides data on long-term employment outcomes for engineering graduates. In general, the report highlights that employment outcomes are very positive compared to the overall graduate cohort, reflecting the importance of engineers, not just in the engineering industry, but across the whole economy. However, the report calls for further investigation into the impact of ethnicity and academic attainment on early employment prospects for engineering graduates.
Key findings include:
High graduate employment outcomes from engineering, with 94% of engineering graduates in full-time work, pursuing further study or a combination of both three and a half years after graduation. This figure is 6% higher than for all graduates.
Strong employment outcomes specifically within engineering occupations, with 69% of engineering graduates having entered engineering occupations after three and a half years.
Stark differences in employment outcomes between engineering graduates of white and minority ethnic origin, with 71% of white engineering graduates entering full-time employment after six months, compared to 51% of black and minority ethnic (BME) graduates.
Dr Rhys Morgan, Director of engineering and education at the Academy said: "This report highlights the value of engineering skills to the economy with employment outcomes from engineering being very strong. In addition, the majority of engineering graduates wanted to continue in engineering careers following their studies, which is encouraging for the UK engineering profession.
"However, despite the profession striving for a more diverse workforce, the impact of ethnicity on early employment outcomes for engineering graduates is concerning and we are beginning to investigate the causes of this."
The report can be found at raeng.org.uk