Engineering Accreditation Board update
Published: 23/11/2016
The Engineering Accreditation Board (EAB) facilitates joint two-day accreditation visits where several professional engineering institutions are looking to accredit programmes with sufficient commonality. Six EAB accreditation visits were carried out in 2016. During these 13 professional engineering institutions reviewed 65 programmes to assess whether they met the educational requirements for becoming an Incorporated Engineer and/or Chartered Engineer.
University departments seeking accreditation for programmes with commonality from at least three professional engineering institutions may be interested in a joint accreditation visit. To schedule a visit, email an initial data form (www.engab.org.uk) including a choice of dates to eab@engc.org.uk. Visits are held over two days, Tuesday and Wednesday or Wednesday and Thursday. If possible please email a year or more ahead of the proposed visit date. All programmes being reviewed must now align with the current third edition of AHEP (Accreditation of Higher Education Programmes) as the transition period to the latest edition ended in September 2016.
Universities are responsible for ensuring that all information published about the accreditation status of their degree programmes is accurate, including Key Information Sets (KIS). This information is reviewed as part of the accreditation process. Programmes that have not yet been accredited for future student intakes are sometimes inaccurately promoted as accredited. It is important that universities request accreditation visits in good time to avoid gaps in accreditation.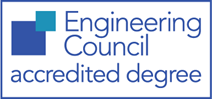 Universities with multiple campuses or partnership arrangements should be aware that accreditation of a programme delivered in one location does not mean that a programme with the same title delivered elsewhere is also accredited. The Engineering Council and professional engineering institutions are aware of cases where the international partners or campuses of UK universities are inaccurately promoting degrees as accredited, when only programmes delivered in the UK are accredited. Where a degree is offered in multiple locations the delivery centre needs to make the delivery location clear on degree certificates and transcripts.