Pocket Guide to Registration out now
Published: 17/09/2019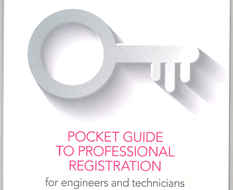 The new edition of the Engineering Council's Pocket Guide to Professional Registration for engineers and technicians 2019/2020 is available now, on our website and in hard copy.
Developed for use by all those working in engineering or interested in an engineering career, the pocket guide both gives a brief guide to becoming professionally registered and offers profiles of each of the professional engineering institutions (PEIs) licensed by the Engineering Council to assess its members for registration. This is intended to help prospective registrants understand the range of PEIs available and start to consider which might be the most suitable for them.
Profiles are also included of Professional Affiliates who are closely associated with, but not licensed by, the Engineering Council. They are institutions that work to further the knowledge and understanding of a particular area or aspect of engineering and technology.
The guide provides an overview of the work of the Engineering Council and of some of the key organisations working in the professional engineering community, including EngineeringUK and the Royal Academy of Engineering (RAEng).
Updates will be made to the online version of this publication up to date as changes are notified to the Engineering Council during the year and the next edition, for 2020/21, is scheduled for publication around September 2020. 
View or download the pocket guide from our website or order printed copies from marketing@engc.org.uk