New video promotes professional registration
Published: 03/09/2018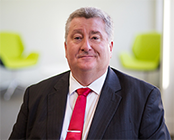 A new video from the Engineering Council promotes the benefits of professional registration for the individual, whether they are entering the engineering profession or looking for the next step to progress their career.
As well as communicating registrants' competence and demonstrating their commitment to employers, clients, peers and the profession as a whole, registration also provides a firm foundation of ethics, sustainability and professionalism. Featuring CEO Alasdair Coates, a Chartered Engineer for over 30 years, the video describes how valuable professional registration has been to him. 
The video emphasises that there are many routes to achieving professional registration, which is open to any practising engineer or technician who can demonstrate the required competence - what matters is the standard you've reached, not the route you took to get there.
We also have a recent video on Continuing Professional Development (CPD), its importance in demonstrating the competence of professional engineers and technicians, and the many available methods of carrying out CPD. The video also explains that professional engineering institutions sample the CPD records of their registered members to demonstrate this commitment and anyone who doesn't engage with CPD sampling could be at risk of losing their professional title. 
All our videos are available online at www.engc.org.uk/videos and we encourage professional engineering institutions to use them in their own communications with members and registrants. You can link to our website or our YouTube channel, or if you would like the file itself or the embed code for use on your own website, please contact marketing@engc.org.uk