ICE London Civil Engineering Awards 2019, open soon
Published: 01/11/2018
The Institution of Civil Engineering (ICE) announced the November opening of their ICE London Civil Engineering Awards, commemorating London's outstanding projects and awarding the best in the industry in the capital.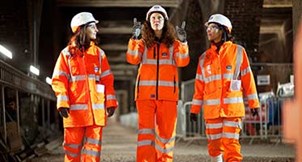 Jonathan Baggs, Director of ICE London, said: "The ICE London Civil Engineering Awards is the perfect opportunity to acknowledge the great infrastructure being built in London and the people and teams who make it happen. We want to celebrate the industry and show how it can deliver world-class infrastructure for future generations of Londoners."
The 2018 awards recognised major infrastructure projects, built environment enhancements and the innovative use of technology. Winners included Crossrail's Elizabeth Line, the Chelsea to Battersea Tunnel for Cadent Gas, the Southwark to City of London deep cable tunnel, V&A's Exhibition Road Quarter, the 'Enjoy Waltham Forest' Programme, London's first use of an innovative asphalt (made of recycle plastic) for Enfield Council and the first UK use of Nereda wastewater treatment process for Thames Water.
Project teams interested in entering the awards can register their intent online now.