#EngineerOnAMission, 5-9 November
Published: 01/11/2018

The sixth annual Tomorrow's Engineers Week (#TEWeek18) takes place from 5-9 November 2018, focused on engineers using their skills to solve some of the world's biggest issues and inspiring future engineers. Twelve engineers are set to feature in the campaign, which will focus on topics young people care about, including saving the environment, animal welfare, staying safe, health and entertainment.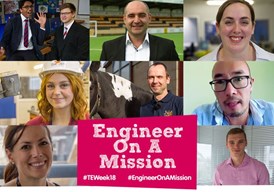 The dynamic dozen all work on exciting projects that make a positive difference to the world, from saving the lives of otters to stopping plastics entering our rivers and oceans. The theme of #EngineerOnAMission will help to inspire future engineers and showcase the exciting aspects of engineering. A series of short films and social media content will be showcased, with participants encouraged to create their own #EngineerOnAMission films and share them on social media.
The engineers on a mission will also be the stars of a unique Tomorrow's Engineers Week Big Assembly, which offers schools across the UK the chance to take part in the same assembly on engineering careers at the same time. The assembly will be live streamed to tens of thousands of students across the UK for a unique, immersive and educational experience. Viewers will be able to ask questions to the panel live via social media. The Big Assembly will be hosted live at 10:30am on 7 November and be available to download later.
Broadcaster Fayon Dixon, who will host the Tomorrow's Engineers Week Big Assembly, said:
"I've seen first hand how engineers can make a huge difference in the world. Every year I host events for young people at The Big Bang Fair and see them inspired by engineers who are helping to save the environment, develop medical procedures, keep us safe, help animals and even entertain us!
"I'm delighted to be hosting the first ever Tomorrow's Engineers Week Big Assembly and would urge all schools to sign up to take part."
For more information and how to take part, see bigassembly.org and tomorrowsengineers.org.uk