New Year, new challenge?
Published: 17/02/2017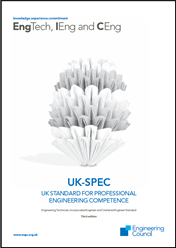 Is 2017 the year you have decided to progress your career? Are you considering professional registration?
To become professionally registered as an Engineering Technician (EngTech), Incorporated Engineer (IEng) or Chartered Engineer (CEng) you will need to give evidence of your engineering competence and commitment against the Standards set out in the UK Standard for Professional Engineering Competence. Why not have a look through to see if you have the required knowledge and experience. Your institution will be able to advise if you are ready to apply and support you through the process.
Click on the link to find out more about how to register, or speak with your institution.