International round up
Published: 05/12/2016
Botswana Engineering Regulation Board
In November a delegation from the Botswana Engineering Regulation Board visited the Engineering Council. The visit was one stop on a practise-sharing trip to the UK, Canada and Australia, to find out how each country regulates its engineering profession. In Botswana, regulation of the engineering profession is compulsory and the Board is reviewing its system for accrediting engineers. The Board was interested in the systems that the Engineering Council has in place for licensing, registration, course accreditation, standards and continuing professional development (CPD).
ENAEE celebrates 10 years
The European Network for Accreditation of Engineering Education (ENAEE) was established by eight founding institutions, including the Engineering Council, in February 2006. Its ten-year anniversary was celebrated with presentations, discussions and debates at a conference in Rome in November, attended by the ENAEE Administrative Council and General Assembly.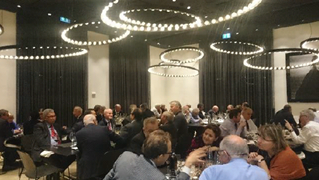 Over the past ten years, ENAEE has developed significant experience in sharing common agreed sets of standards and tools for accreditation of engineering degree programmes in Europe, while coping with the diverse range of national education systems and professional organisations. The Network is responsible for authorising accreditation agencies to award the EUR-ACE® label to engineering programmes. The label is internationally recognised and facilitates both academic and professional mobility for its graduates. By the end of 2016, 13 authorised agencies will have awarded EUR-ACE® labels to approximately 2,500 programmes at 300 universities in 32 countries.
To mark the anniversary, approximately 60 members of ENAEE and representatives of European partners and stakeholders gathered for the celebratory conference. The first session "10 years of trust building" took stock of ENAEE activities, with the testimonies from education providers. The second session "A look forward" considered future issues for engineering education.
The Secretary General of the European Council of Engineering Chambers also presented the main outputs of the European Common Training Framework project, supported by the European Commission. This project aims to define a system of automatic recognition for engineers in Europe by outlining a minimum set of academic and professional requirements. The project proposes applying the EUR-ACE Framework Standards and Guidelines to define the knowledge, skills and competences for the education element of engineering formation in Europe. The generic character of the EUR-ACE Framework makes it appropriate as an academic core for professional frameworks and for national quality assurance systems in engineering education.