A reflection on six years at the helm
Published: 16/12/2016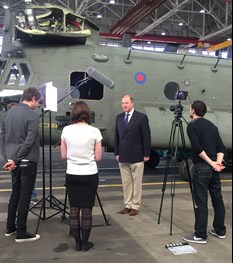 As I enter my final month in my current role, I look back on the last six years with a mixture of pride and frustration. I am incredibly proud of what the Engineering Council has become, and yet I also feel a sense of frustration by what I am leaving behind for others to complete.
On my first day in the job, back in August 2010, I thought that I knew what the Engineering Council did and how it fitted in to the 'Universe of Engineering'. After all, I had been a membership director of one of the larger professional engineering institutions. I had served my time as a Board member and, at the time of appointment, I was Chairman of the organisation's pension fund. Yet there was so much more that I had to learn about the profession. Seeing it from the perspective of the regulator was like seeing it through new eyes.
The key discovery was that no two Licenced Members are the same. It sounds obvious, and each individual institution knows that it is different from all the others, but they will often then assume that all the others are similar. This is probably because there are a number of activities that each professional engineering institution undertakes that are broadly similar, professional registration being one of them. I have therefore been encouraged by the relatively recent initiatives (21st Century PEIs et al.) that have set out to explore the common ground, with a view to greater collaboration. As I move on to my next role at the Institution of Chemical Engineers, I will be even keener to see progress in this area.
However, we have to remember that the pace of change is determined by consensus. Engineers are evidence-based decision makers and therefore, compared to some professions, consensus is attainable. But it does require trust and a genuine will to collaborate. Some believe that professional bodies are incapable of reforming themselves in time to meet the demands of future generations. Engineering institutions, and even the profession as a whole, are often compared in terms of governance to the manoeuvrability of a super-tanker. You can ask the helmsman to throw the wheel 'hard a port', but it will be 12 miles before you actually make the turn. Others, both within the profession and beyond, expect the profession to behave like an expertly crewed yacht. The skipper calls the tack and 20 seconds later the boat is off on the new heading with little or no loss of boat speed. These different views and expectations can be challenging to manage, but they are an opportunity that we should relish. They prevent complacency from setting in. In the current age, with the impact of technology, there is no 'status quo' and professional bodies must adapt to meet the demands of future generations.
I leave the Engineering Council at the end of January full of optimism. During my tenure we have established the importance of delivering public benefit and strengthened our approach to ensuring registrants maintain their competence. We have reviewed our standards and related guidance with strong support from all sectors, and we have seen the first signs of true global interest in emulating our approach and adopting our standards. Internally we have created a truly professional team that has delivered a solid foundation for digitalisation. We have also seen increasing engagement by employers, which is critical for future success. It therefore only remains for me to thank you all: staff, volunteers, colleagues and friends, for providing me with your support over the last six years. I look forward to working with you in my new role to take forward our common agenda in the New Year. 
In the meantime, I hope that you have a great Christmas.
Jon Prichard