Engineering Council welcomes two new starters
Published: 16/04/2018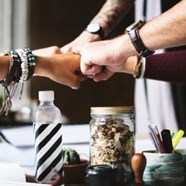 The Engineering Council is pleased to welcome two new people joining its staff team this month.
Penelope Parker joined the Engineering Council as a Marketing and Communications Executive at the beginning of April. Penelope's career covers design and communications in fundraising and development for charities including: RSPCA; Sue Ryder Care; and Perennial - Gardeners' Royal Benevolent Society. Penelope has also worked on marketing, publicity and advertising for several other non-profit, engineering companies and universities, some of which included the Imperial College Union and Johns Hopkins University's School of Engineering in Baltimore, plus museums Fishbourne Roman Palace and Lewes Castle.
Michael Curran joined the Licensing team as the Committee and Project Support Executive. He is joining the team to support the Engineering Council in ensuring a consistent approach to licensing of professional engineering institutions.
Picture credit: https://essayontime.com.au