Sachin Makarand Kirtane BE ME IEng MCIHT
Published: 12/02/2018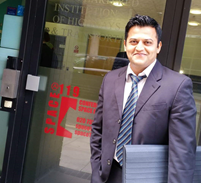 Education and qualifications: Bachelors in Civil Engineering at MNIT Jaipur, India
Masters in Civil (Transportation) Engineering at UT Arlington, Texas, USA 
Which Institution are you a member of? Chartered Institution of Highways and Transportation (CIHT)
Current job title: Highway Design Engineer
Company: Renardet S.A & Partners LLC Consulting Engineers
Length in current job:  2 years
Approximately how many staff are employed by your company?  > 250
Where are you based? Muscat, Oman
Please describe your current role
I manage a group of computer-aided design (CAD) technicians and support the Highway Design Team Lead. I engage with stakeholders and manage several projects. My technical work includes producing geometric designs of highway and road elements; performing design calculations; carrying out swept path analysis and visibility analysis; drafting design reports; and preparing and reviewing drawings from concept to Issued for Construction stage. 
What inspired you to choose engineering as a career?
During my internship at IIT Mumbai, I worked on a project that entailed modelling an in-campus transportation service. I was instantly intrigued by the main focal points of the project, which included transport modelling, scheduling of routes and estimating passenger numbers for the bus/battery shuttle buses. This experience inspired me to enter the highways and transportation profession as an engineer.
Please provide a brief outline of your career so far
Having completed a Bachelors in Civil Engineering at MNIT Jaipur, India, I started as a Junior Engineer with Patel Engineering in Mumbai in 2002. There I worked at a dam construction site and supervised concreting and quarry operations. I then studied for my Masters in Civil Engineering (Transportation) in Texas, US, before joining Tantia Constructions in Kolkata as an Estimation and Costing Engineer in 2007, where I worked for two years. After this I spent two years as a Transport Planner at TTIC Bangalore followed by five years as a Highway Engineer with Atkins based in Doha, Qatar and Bangalore. Since 2015 I have been working as a Highway Design Engineer at Renardet SA & Partners, based in Muscat, Oman.
Have you worked on any unusual or high profile projects?
The highlight of my career so far has been working on the $7.4 billion local roads and drainage project for the Public Works Authority (Ashghal) in Qatar. Working on a project of that scale enabled me to acquire a range of core technical and project management skills that I still use today.

What spurred you to work towards registration as an Incorporated Engineer (IEng)?
Whilst working in Qatar I listened to several evening presentations from a range of international and sector-specific institutions. The Chartered Institution of Highways and Transportation (CIHT) stood out from these based on their presentation on achieving professional registration and its benefits, which sparked my initial interest in the process. 
How did you become registered as an IEng?
Atkins helped me to arrange a mentor with whom I identified any competences I still needed to work towards and developed a plan on how to satisfy all the requirements for professional registration. Once I had met all the objectives I again worked with my mentor to develop my submission and prepared for my professional review interview. I would describe the overall experience of achieving IEng registration as incredibly satisfying. Having felt the demand on my time and concentration at the end of some tough days at work, I am still very proud to have achieved this particular feat. 
How has professional registration as an IEng benefitted your career?
I believe my IEng qualification helped me to gain my current job in Oman as it made me stand out from my colleagues at work. I also feel that the skills and attributes I have developed whilst gaining professional registration will help me to collaborate better with my peers working in the industry. 
What advice would you give someone considering professional registration as an IEng?
I would advise them to start aligning their work experience with the competence requirements set out in the UK Standard for Professional Engineering Competence (UK-SPEC). Furthermore, it is important to keep a record of the required CPD hours and the learning gained from it. It is also particularly important to gain a mentor's approval on each objective achieved and your experience report. 
What is your employer's attitude towards professional registration?  Were they supportive while you were working towards your registration as an IEng?
Atkins actively encouraged me to gain professional registration by assigning me a suitable mentor and by assigning subject matter experts to review my experience report and project synopsis. 
How does your employer benefit from you being an IEng?
I believe the main benefit to my employer is that I try to implement the core skills and best practice procedures I have learned while working towards professional registration. If I believe a system could be improved then I will seek to address this. Professionally qualified engineers commit to proactively managing their continuing professional development and my professional qualification also strengthens my CV, which is an advantage to my employer when bidding for projects. 
What are your future goals?
I aim to gain more work experience particularly in the areas of project management and contract management. This shall enable me to fill gaps in the knowledge area to attain Chartered Engineer (CEng) status.