Matthew Foyle BEng IEng MIET
Published: 11/07/2018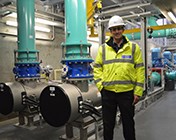 Education and qualifications: Incorporated Engineer (IEng), BEng (Hons) Professional Engineering (First), Distinction in HND Electrical & Electronic Engineering, Distinction HNC Electrical & Electronic Engineering, ONC Electrical & Electronic Engineering, MSc Professional Engineering studying, due for completion 2020                        
Job title: M&E Project Manager
Employer: Wessex Water (since 2005)
What inspired you to become an engineer or pointed you towards an engineering career?
My interest in solving problems and learning about new and existing technology. I enjoy the technical aspect of engineering and am continuously learning through different experiences and real-life situations.
Please describe your role or position within your workplace.
I am a Project Manager specialising in Mechanical, Electrical and Chemical engineering with expertise in industrial design, installations, site commissioning and fault diagnosis. This involves experience in forecasting project costs and carrying out multi-million pound projects from start to completion.
Can you describe a typical working day?
No two working days are the same, I can be carrying out design on one project and be in construction or commissioning stages on others. I undertake estimating and project forecasting, preparation of tender and contract documents/specifications and programme mechanical and electrical (M&E) construction activities and sequencing with civil works. I maintain the project schedule by monitoring project progress, coordinating activities and resolving problems as they arise.
Are there any challenges or unusual aspects to your role?
I am responsible for M&E apprenticeship recruitment. I plan open days and undertake interviews. This year I met over 100 apprentices who applied to work for Wessex Water in all different types of engineering disciplines. I meet with colleges and universities to set up learning and development plans and review apprentice progress monthly. 
What do you find most enjoyable about your job?
Working within the water industry on water treatment plants is a big responsibility and I am proud of the work I undertake in ensuring that the highest quality of water is delivered to customers. I enjoy the day-to-day challenges and learning about the latest engineering technologies such as 3D design and artificial intelligence.
Is there a great professional achievement or high-profile accomplishment that you would like to tell us about?
I'm very proud of achieving a first in my BEng (Hons) Professional Engineering degree in June 2017 while working full-time, then six months later of becoming professionally registered as an Incorporated Engineer. In addition I was very pleased to have my work recognised by receiving the Baroness Platt of Writtle Award in July 2018.
What contributed to your decision to become professionally registered?
Becoming professionally registered has always been a goal of mine, it demonstrates dedication, experience and technical knowledge to the highest standards.
In what ways has registration benefitted your career?
It demonstrates the dedication, experience and technical knowledge required to be recognised as both a professional and competent engineer and is valued by my employer. After achieving IEng status I was promoted to Project Manager, responsible for projects of up to £16M and now mentor other engineers and apprentices.
How does your employer benefit from your professional registration?
The assurance that I have satisfied a rigorous assessment of my engineering competence gives my company creditability that it employs the highest standard of engineers. I have access to development and networking opportunities that ensure I remain up-to-date with innovations in technology, which I then report back to a professional development network within Wessex Water, ensuring all the engineers within the organisation benefit.
Is there any advice you would pass on to someone considering professional registration?
Dedicate the time and commitment to meet the criteria for professional registration; putting the effort in benefits your career.
Where do you see yourself in your career in five years' time or what are your future ambitions?
Achieving Chartered status with the Institution of Engineering and Technology (IET) and completing my Masters degree at Aston University.
Do you participate in any other career-related activities, such as mentoring, volunteering or membership of other engineering groups?
I am a mentor for M&E apprentices within Wessex Water and encourage school and college leavers to enter the profession. I have recently developed our new M&E apprenticeship recruitment programme.
Outside work, is there any activity you enjoy doing in your spare time that relates to engineering?
I am a keen boater and enjoy the engineering aspect of maintaining motor boats and cruising around the South West coast which requires lots of preparation and planning.