Leonids Polakovs IEng MIMechE
Published: 01/05/2019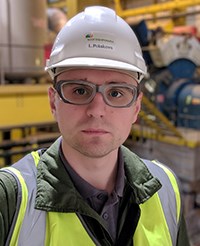 Education and qualifications:
HND in Marine Engineering, Liepaja Maritime College
BSc in Marine Engineering, Latvian Maritime Academy
MSc Study Program, Advanced Mechanical Engineering, University of Sussex
Job title:
Lead Mechanical Engineer
Employer:
ScottishPower Generation Ltd
What inspired you to become an engineer or pointed you towards an engineering career?
I have always been interested in how things are built, designed and how they actually work. Since early childhood I was fascinated by large machines and by people who can operate and repair them. My father owned a small shipping company that operated five medium-sized fishing trawlers sailing in the Baltic Sea. Most of my free time was spent on these ships while they were in port because I enjoyed wandering around engine rooms and trying to figure out how the plant is operated and how the machines worked. At some point I realised that Mechanical Engineering is exactly what I wanted to do and I decided to study Marine Engineering so that I would be able to operate and repair ships' plant and systems.
Please describe your role or position within your workplace.
My role is to manage the rotating plant (steam and gas turbines) within the portfolio of four combined-cycle gas turbine power stations in the UK. I provide the engineering support to sites by managing plant modifications, repair and overhauls across the fleet. This involves the engineering governance, legal compliance of assets, project management and contractual agreements with original equipment manufacturers (OEMs). My task is to ensure that assets run around-the-clock, ensuring safe and reliable operations. During a major outage, I have to take the leading role for the whole project, starting from long-term preparations and finishing with an actual implementation when contractors turn up on site.
Can you describe a typical working day?
There is no such thing as a "typical working day" because every day is very different. I can spend the whole day in my office reviewing some engineering standards or writing specifications or can spend the whole day on plant managing a major outage of a gas turbine at one of four power stations. A lot of traveling is involved in my role as every station is located at a different place in the UK.
Are there any particular challenges or unusual aspects to your role?
The actual challenge is the diversity of plant that I have to manage. Every site has its own OEM such as Siemens, Mitsubishi Hitachi or General Electric. I have to know every asset thoroughly enough to be able to diagnose faults or to manage spare part purchases, but they are all very different, so I am learning something new on a daily basis.
What do you find most enjoyable about your job?
Feeling that I make a difference is the most enjoyable thing about this job. I can actually see the difference in how things are, before and after I have been involved. Normally I end up with problems solved or machines being repaired and running smoothly. Seeing this is very satisfying!
Is there a great professional achievement or high-profile accomplishment that you would like to tell us about?
Currently I am managing the major gas turbine overhaul at Rye House power station. We are approaching the end of the rebuild and when this is completed, it will be the most complex and high-profile achievement in my engineering career.
What contributed to your decision to become professionally registered?
Professional registration is an important milestone in every engineer's career as it reflects their professional accomplishments and shows their real value as a specialist. I was inspired by my senior colleagues who are professionally registered, and I always wanted to reach the same level of professionalism as they have.
In what ways has registration benefitted your career?
Registration boosted my self-confidence in my work. Now I know that a recognised institution confirms that my professional accomplishments have met certain standards.
How does your employer benefit from your professional registration?
My employer is reassured by the official institution's recognition that my level of professionalism meets the criteria for registration. This helps my colleagues to understand what my abilities are as well as my level of knowledge and experience.
Is there any advice you would pass on to someone considering professional registration?
I would advise you to treat it very seriously and to get it done. It is hard work preparing everything for your registration, but it is worth it.
Where do you see yourself in your career in five years' time or what are your future ambitions?
First of all I have to complete my MSc studies and reach the level of a Chartered Engineer. Then I could see myself as a highly-skilled specialist in my area, managing my own department.
Do you participate in any other career-related activities, such as mentoring, volunteering or membership of other engineering groups?
I mentor young graduates in my organisation and help new starters to widen their understanding of plant and systems. IMechE organises official training to be an engineering mentor. Additionally, I have taken advantage of having a full-time engineering position in the power industry while studying at university to arrange power station tours for my coursemates; this is to provide them with some practical experience and show them what the power industry looks like.
Outside work, is there any activity you enjoy doing in your spare time that relates to engineering?
I am very interested in the history of mechanical engineering, so I travel a lot across the UK to see some important historical places and facilities such as Kempton Park Steam Museum or Brunel's bridge in Bristol. This is usually very interesting experience and also helps me to broaden my knowledge of the history of engineering.