Kailash Neenooth IEng MIMechE
Published: 29/05/2019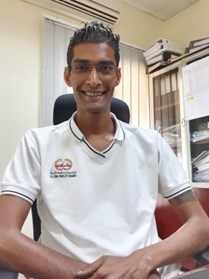 Education and qualifications: BEng (Hons) Manufacturing Engineering, MSc Professional Engineering
Which Institution(s) are you a member of? The Institution of Mechanical Engineers (IMechE)
Current job title: Maintenance Manager
Company: Oman Flour Mills Company S.A.O.G
What inspired you to become an engineer or pointed you towards an engineering career?
I was always curious by nature and I think the urge to become an engineer comes from my father. He was a car mechanic and I used to see him working; whenever he was not there in his workshop, I used to dismantle all the parts I could find and reassemble them. This was the time I got inspired by engineering and I took the opportunity to be an engineer.
Please describe your role or position within your workplace.
I am responsible for the maintenance and installation of mechanical equipment in the Flour Mill, Feed Mill, silos (Buhler Switzerland) and auxiliaries, with a capacity of 850 tons of flour per day and over 1,000 tons per day of animal feed.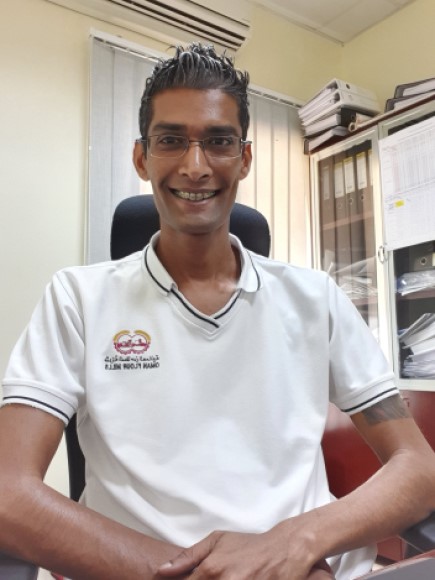 I work with a team comprising 37 skilled people: lead mechanics, electricians, mechanics, welders/ fabricators, fluting machine operators, lathe machine operators, lubrication men, plumber, carpenter and painters.

My duties and responsibilities can be summarised as reporting to the Chief Operating Officer (COO), supervising the activities of the mechanical maintenance department, making sure that repairs are done in accordance with accepted standards and specifications, while the safety of staff is safeguarded.
Day-to-day, I coordinate with other departments to ensure proper scheduling of activities and to establish priorities of maintenance jobs, and am responsible for the design, fabrication, and installation of revised systems in the plant as the need arises to suit our operation. Wherever it is necessary and feasible, we make new modifications to existing plant; where this isn't possible, I coordinate and assist with the installation of new plant and equipment.
Part of my role is to draw up plans and implement preventive maintenance programmes, as well as preparing spare parts requirements for the plant to ensure spare parts availability when needed. I ensure the maintenance and efficient operation of all service systems (such as water supply, electricity supply, compressors, fire alarm systems and fire-fighting equipment), as well as the boiler plant (comprising three boilers with a total capacity of eight tons per hour).
I maintain the mills according to the HACCP (Hazard Analysis Critical Control Point) and am a member of the HACCP Team, and maintain the ISO 9001, 14001 and 18001 OHSAS (Occupational Health and safety Advisory Services).
Can you describe a typical working day?
My day starts early, with work beginning at 06:30. I meet my team in the mess room and discuss any issues that occurred during the night shift. After that , I go for an inspection in the Flour Mill and Feed Mills. Normally, I have a round near the critical equipment and pay attention to sounds that seems unfamiliar. If I notice something abnormal, I go to inform the Flour Mill team and we set up a schedule to stop and repair if it is urgent. Similarly, I do the same round in the Feed Mill. As for the silos, I tend to go there every week (especially when we have ship unloading going on), to see the unloaders in action and address any particular faults.
Are there any particular challenges or unusual aspects to your role?
Maintenance engineering is not an easy task as we are a service provider. So at times, the pressures at work do increase, particularly during the summer months. In Oman, temperatures can peak up to 48 degrees Celsius at times as well as experiencing moments of high humidity. So we do face a lot of challenges with equipment surrounded by these ambient temperatures. Being the Maintenance Manager not only involves preventive maintenance works but also project works in all locations, so it gets quite hectic when you need to schedule a project from start to finish and minimize shut down times. I took on this role because I had always wanted international experience; I already had experience in flour and feed milling and this took my exposure to a whole new level.
What do you find most enjoyable about your job?
Firstly I don't have to wear a suit! Getting my hands dirty is the most satisfying part of the job - I like to involve myself in some works with my team and while doing so, we brainstorm and a lot of positive vibes come out. So it's like a learning curve for them and this is really rewarding.
Is there a great professional achievement or high-profile accomplishment that you would like to tell us about?
I'm still working towards becoming a Chartered Engineer (CEng) and hopefully that will be a reality soon.
Having started my career in 2008 as a Production Engineer with Sprema Engineering Works (SEWL), I monitored numerous projects which called for the fabrication and assembly of elaborate structural steel works for prestigious construction sites in my three years at the company. These includes Apollo Bramwell Hospital, Raffles Tower and Bagatelle Mall, on which I collaborated closely with architects and structural engineers. 
After several years at Les Moulins de la Concorde (LMLC) as a Maintenance Engineer and later Maintenance Manager, I  joined Manser Saxon Contracting (one of the IBL Group companies) in March 2015 as Workshop Operations Manager, because I wanted a new challenge in my engineering career. So when in February 2016 I got the opportunity to join an overseas company in Oman (namely Oman Flour Mills Company S.A.O.G.), I decided to take the offer.
What contributed to your decision to become professionally registered?
After completing my studies I decided to join the Institution of Mechanical Engineers (IMechE) initially as an Associate Member. By 2014 I realised it was high time to upgrade my membership status with IMechE and go for professional recognition. With five years of knowledge and experience I decided to apply for registration as an Incorporate Engineer (IEng).
Before I started my application, I contacted IMechE about their Independent Mentor Service (IMS) and was assigned a mentor who was based in North Carolina, US, and we communicated via Skype and email. My mentor was a great help and guided me to make sure I understood and met the competences and commitments outlined in the UK Standard for Professional Engineering Competence (UK-SPEC), and that I was ready for my professional review. I had my interview in Mauritius and successfully gained IEng status in March 2015.
The prestige and ethical implications associated with this international standard of competence made this an honour for me to achieve. Also, Mauritius is a small island which is developing at a fast pace, so for me registration also benefits the development of my professional career, giving me an advantage above those who are not professionally registered
In what ways has registration benefitted your career?
Acquiring professional registration has boosted my career and is evidence of my level of competence for colleagues, friends and external organisations. They are quite amazed by the post-nominals 'IEng MIMechE' after my name. 
Nonetheless, in Mauritius, many companies still require that you are registered via the Council of Registered Professional Engineering Mauritius to practice engineering, international registration is not yet widely accepted here.
In Oman, we do have an IMechE representative and hold meetings, which have allowed me to meet a group of engineers with different mindsets and experience. Currently in my work place, I am the only professionally registered engineer, which sets me apart from my colleagues.
What advice would you give someone considering professional registration?
I have been a Professional Review Assessor and a volunteer for the Independent Mentor Service for IEng candidates since 2015 and my advice would be to keep going! At first it can seem daunting when you look at the application form but if you make use of all the help and guidance that is available it will turn the road to IEng into a smooth path. I would recommend always keeping a log of all your activities and achievements during your career and would definitely encourage eligible applicants to apply straightaway.
How does your employer benefit from your professional registration?
As an engineer, my employer can have confidence in my skills and competence to undertake engineering projects. With my milling experience, it creates an added advantage as well.
Although my employer did not have any requirement for me to seek professional registration, they supported my decision that it would be beneficial for my career progression. As most of the companies in Mauritius do not have an accredited training scheme to support my application, I relied mostly on the support of IMechE.
Where do you see yourself in your career in five years' time or what are your future ambitions?
In terms of my career, I plan to continue taking on new responsibilities while using my experience and expertise to contribute to employer objectives, such as increasing profitability. 

My career goals for the next four to five years include keeping up to date with new technologies; finding international opportunities to develop my knowledge and experience further; progressing to a more senior position within my organisation and becoming part of the company's strategic thinking; and all the while continuing to promote engineering as a career.
Do you participate in any other career-related activities, such as mentoring, volunteering or membership of other engineering groups?
Yes, we do have the IMechE representative here in Oman where they set up monthly meetings to gather engineers around different work areas. Recently I have joined OPEN (Oman Professional Engineers Network), a network of Town Planners, Architects, Engineers and Quantity Surveyors living in Oman who are members of the Oman Society of Engineers, UK professional bodies (such as the Royal Town Planning Institute (RTPI), Royal Institute of British Architects (RIBA), Royal Institute of Chartered Surveyors (RICS), Institution of Engineering and Technology (IET), IMechE, Institution of Civil Engineers (ICE), Institution of Chemical Engineers (IChemE), Institution of Structural Engineers (IStructE) and other professional engineering institutions licensed by the Engineering Council). I am also an interviewer for IMechE.
Outside work, is there any activity you enjoy doing in your spare time that relates to engineering?
I got involved indirectly with the Arduino system when I was helping my son for his school project. During my free time, I write some code and play with some robotics via the laptop. It's way different form my field, but very interesting to see how the Internet Of Things (IoT) is really working now.
Kailash Neenooth IEng MIMechE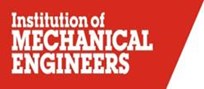 Registered: 2015