Jodie Robins BSc IEng MCIHT
Published: 28/11/2018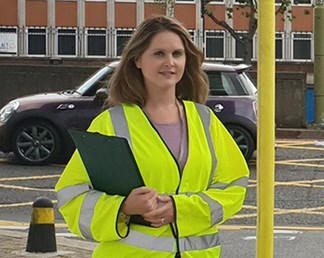 Education and qualifications:
BSc (Hons) Geographical Information Systems, Public Policy and Management
Professional Diploma in Civil Engineering BTEC
Certificate in Travel Planning QCF Level 5
Construction Skills Certification Scheme (CSCS) CITB
Job title:
Principal Consultant
Employer:
AECOM, Birmingham
What inspired you to become an engineer or pointed you towards an engineering career?
I enjoyed geography at school and college, and it stood out as the subject I was most interested in exploring further. While engineering was not something that sprung to mind at the time, I was drawn to university courses related to the natural and built environment. I ended up selecting a Combined Honours course rooted in the science of geography, which gave me an understanding of how individuals and organisations gather, manage and use spatial data and other information for the common good.
It became apparent to me during my time in further education that my training would be ideal for a career in engineering and would particularly benefit local authority work. My strong ambition to progress in the industry since has been very much motivated by some of the inspirational engineers and consultants I have met along the way.
Please describe your role or position within your workplace.
I am currently a Principal Consultant working in AECOM's Spatial Planning and Advisory team in Birmingham, providing strategic planning and transport engineering advisory services to both public and private clients. I largely manage technical reporting, highway assessment and traffic management projects under Highways England, Birmingham City Council and Midlands Highway Alliance framework contracts. My role also involves team management, mentoring and the development of other members of the team.
Can you describe a typical working day?
My typical working day consists of writing and approving reports or responses to clients, local authorities and developers, and attending meetings or site visits. The work often requires data analysis and reference to transport or development planning policy, regulations and industry standards. As an AECOM Project Manager I oversee project, risk and budget management, and I am a key point of contact for a number of clients requiring liaison in person, by email or phone. I always try to make time in my day for some form of Continuing Professional Development (CPD), whether it is related to my own learning or providing advice to others.
Are there any particular challenges or unusual aspects to your role?
It can be challenging to manage multi-agency collaboration and stakeholder influence in the type of work we do. Larger transportation proposals in particular can be the result of years of strategic discussions and planning or bid efforts involving numerous partners and stakeholders. Even the smaller projects I have managed tended to require collaboration with the client, their partners and other suppliers, and some form of consultation with key stakeholders or members of the public. My experience has taught me that it is important to try to embrace different perspectives if you are to deliver a good result that meets needs so far as is practicable. I have seen first-hand how organisations can achieve positive outcomes by working together.
What do you find most enjoyable about your job?
I enjoy the balance I can achieve between working on larger projects that might be years in the making and managing stand-alone tasks with short deadlines. There is a feeling of satisfaction when key milestones and deadlines are met as expected, and I particularly like being able to help others realise their goals.
Is there a great professional achievement or high-profile accomplishment that you would like to tell us about?
After achieving Incorporated Engineer (IEng) status, I was honoured to be nominated by the CIHT for the Baroness Platt of Writtle Award 2018 recognising exceptional newly registrated Incorporated Engineers, and profiled in their Learning and Development Guide. I am also very proud to say that one of my mentees at AECOM, Charlotte Jones, has recently won Apprentice of the Year 2018 with the Association for Consultancy and Engineering (ACE), and their prestigious Diamond Award.
What contributed to your decision to become professionally registered?
As my experience as a line manager was developing and I became more invested in mentoring younger members of the team, I increasingly felt it was important to become professionally registered. Anyone advocating CPD should be prepared to act as a role model for others and persist in their own efforts to become Chartered.
In what ways has registration benefitted your career?
Achieving registration with the Engineering Council was well received by my employer and I have been recognised for my efforts with regards to professional development. Registration entitles me to use industry recognised post-nominals to show that I have earned accreditation and I meet the standards desired by my clients. Over the longer-term, professional registration can be included on my CV and online profile to help set me apart from other candidates.
How does your employer benefit from your professional registration?
Most bids for new work require the submission of CVs for key team members. Professional registration demonstrates to existing and prospective clients that the project team is experienced in the field, and capable of delivering what the tender proposal says it will. At a time when there is significant competition across the industry and pressure on resources across the board, professional registration and team skills may give a bid the edge it needs to secure the work.
Is there any advice you would pass on to someone considering professional registration?
My advice to young people considering a career in engineering, and also those who have entered into an apprenticeship, is to explore courses that are accredited by the Engineering Council that partially or fully satisfy the education requirement for registration. In any case, those considering registration should engage early with their professional institution and seek advice on what will be required to meet the standard. At all times it is crucial to keep on track with CPD and ensure records are kept up-to-date. Getting into good habits will help when it comes to putting together a quality portfolio submission.
Where do you see yourself in your career in five years' time or what are your future ambitions?
I build career planning into my Professional Development Plan (PDP) each year and try to tailor my goals each year to help me achieve those aspirations. My current PDP includes my ambition to be a Chartered Engineer and award-winning Associate Director, overseeing larger projects with more of a strategic role in the team. I hope to continue building on my technical knowledge and be able to provide an advisory role to others as they progress through their own careers in the industry.
Do you participate in any other career-related activities, such as mentoring, volunteering or membership of other engineering groups?
I am an active Chartered Institution of Highways & Transportation (CIHT) member and their West Midlands Company Champion, acting as an ambassador for the institution within my organisation. I promote CIHT information, news and events, and speak to colleagues about becoming a member or the process for achieving registration. I am also a member of the Women's Engineering Society (WES) and have volunteered to support their work. As part of my own CPD I attend various events and seminars, and participate in mentoring junior members of the team.
Outside work, is there any activity you enjoy doing in your spare time that relates to engineering?
I enjoy DIY in my spare time and often write to-do lists so I can keep track of jobs and any ideas I have, then I tick things off as I go. I often relate the way I manage tasks around the house to what I do at work to; it is all about good project management and successful delivery.