James Lewis BEng IEng MIED
Published: 08/02/2019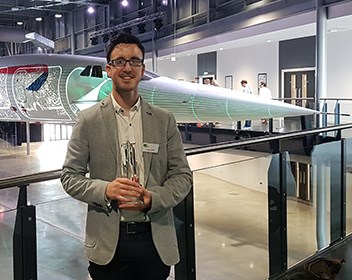 Education and qualifications:
BEng Mechanical Engineering Design
Job title:
Mechanical Design Engineer
Employer:
AWE (Atomic Weapons Establishment)
What inspired you to become an engineer or pointed you towards an engineering career?
I wanted to go down the vehicle mechanics route, but there was a lack of apprenticeships at the time. A friend handed me an application form for an apprenticeship in Precision Machining ─ I applied and got the job. It was only then I realised the opportunity I had given myself to progress in an engineering career.
Please describe your role or position within your workplace.
My role as a Mechanical Designer is to come up with mechanical solutions to engineering opportunities. I design a variety of things from facility modifications to diagnostic equipment and manage the design project from requirements all the way to installation of the equipment.
Can you describe a typical working day?
I start my day reviewing the projects I have and highlighting what tasks need to be done. I then will work on Computer Aided Design (CAD) software to complete the design work, which could be model creation, drawings or design documentation. Most days I will be required to support the operations team to gather information on equipment or work instructions. In the afternoon I may attend a design review, chase up on quotes or progress chase suppliers and manufacturers. I then finish my day by reviewing the work I have achieved.
Are there any particular challenges or unusual aspects to your role?
The environment my equipment goes into is very clean and designing equipment so that it is easily cleaned can be a challenge. All the equipment is cleaned to a very high standard, which creates material interaction problems such as cold welding, so we have to make interacting parts (such as screws) from a material dissimilar to the material they are interacting with.
What do you find most enjoyable about your job?
I enjoy the variety of work. I am the type of person which likes a new challenge, so variety suits me.
Is there a great professional achievement or high-profile accomplishment that you would like to tell us about?
I received Apprentice Machinist of the Year when I was an apprentice and I have recently received the Young Member of the Year award from the Institution of Engineering Designers (IED).
What contributed to your decision to become professionally registered?
I like the fact my professional achievements are documented and acknowledged. Everything in engineering is marked against a standard and I like that my career can be also marked to a standard.
In what ways has registration benefitted your career?
It has opened me up to a wider engineering community which I would never have met if I hadn't gone for professional registration.
How does your employer benefit from your professional registration?
It is positive for a company to know their employees are registered against a standard framework. This would give my employer the confidence in its staff to carry out their work safely and to a high standard.
Is there any advice you would pass on to someone considering professional registration?
If you want to progress in your career it is always good to have something your competition may not have. If your aim is to become the best you can be, professional registration helps you do this. Always aim high!
Where do you see yourself in your career in five years' time or what are your future ambitions?
I want to be registered as a Chartered Engineer in five years' time.
Do you participate in any other career-related activities, such as mentoring, volunteering or membership of other engineering groups?
No, currently I do not ─ I have a young family and they keep me busy enough.
Outside work, is there any activity you enjoy doing in your spare time that relates to engineering?
One of my hobbies is electronics and robotics. This mainly consists of programming microcontrollers to do some interesting things. My aim is to make a simple Computer Numerical Controlled (CNC) mill from scratch.