Gary Black CMgr IEng MCMI MSOE MBES
Published: 18/06/2021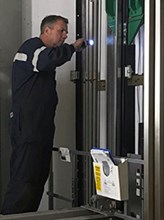 Education and qualifications:
Lean Six Sigma Green Belt (100% Effective Ltd)
IQ Level 3 Award in Assessing Competence in the Work Environment (Qualifications and Credit Framework (QCF))
Institution of Occupational Safety and Health (IOSH) Managing Safely Certificate
National Examining Board (NEB)  Diploma in Supervisory Management
National Examining Board (NEB) Certificate in Supervisory Management
Engineering Training Authority (EnTra) NVQ Level 4 (Technician Engineer)
Business and Technology Education Council (BTEC) Higher National Certificate (HNC) in Engineering
Business and Technology Education Council (BTEC) Ordinary National Certificate (ONC) in Mechanical Engineering
Job title: Regional Engineering Manager
Employer: HSB Engineering Insurance
What inspired you to become an engineer or pointed you towards an engineering career?
As a school child I always enjoyed and had an aptitude for Mathematics and especially problem solving, so engineering seemed a natural fit when deciding on a career path.
I left school at the age of 16 and attended the Engineering Industry Training Board (EITB) training centre at Billingham on a Technician Award Scheme. I was trained in basic mechanical and electrical applications for one year, while also attending Wearside College on day release and night classes studying for a BTEC ONC in Mechanical Engineering.
After my year of training, and with the help of the EITB, I approached different engineering firms within the area to secure an apprenticeship. Following several interviews, I was offered the chance of an apprenticeship with three different companies.
I chose to become a Lift Engineer at Pickerings Lifts. My training consisted of a one-year induction into the company, based at the factory in Stockton. During this time, I spent several intervals in the various factory departments learning all aspects of administration and manufacturing and attended further day release and night classes at Wearside College, completing my ONC in Engineering. The next year of my apprenticeship was spent working away from home and was split between learning how to install, service and repair lifts.
After the second year of my apprenticeship, I decided to concentrate on the service and repair aspect and spent the next two years qualifying as a Service Engineer, attending Wearside College to gain an HNC in Engineering.
Please describe your role or position within your workplace.
As a Regional Engineering Manager, I lead a team of Engineer Surveyors who conduct in-service inspections within a geographical region for HSB Engineering Insurance, a leading specialist provider of engineering insurance and inspection services. HSB provides inspection services, covering boiler/pressure, lifting, electrical and mechanical, dust and fume extraction and power press equipment, to businesses of all sizes and industry sectors.
In addition to managing and mentoring the team, key elements of my role include: supporting the Regional Service Manager to ensure contract delivery meets agreed service levels; managing engineering competencies to ensure day-to-day work is carried out to the highest standards; ensuring detailed knowledge of the legislative, contractual and operational requirements for all areas of in-service examination; and providing site and management support to field staff. I also carry out in-service inspections as part of my role.
Can you describe a typical working day?
A normal day is very diverse. The job involves everything from meeting customers and carrying out technical inspections to writing up the reports and completing other administration tasks.
With an early start to the day and a plan of action already drawn up, I drive to the inspection location. In addition to the inspection, I speak to the customer to make sure they are happy with the service and look for ways we might improve. Throughout my visit, I try not to disturb the daily routine of the site.
Once the inspection is finished, I report any news or updates since the last inspection to the customer and highlight any major defects found. Then, after discussion and making recommendations, I make my way to the next location where more inspections will follow in a similar manner.
Finally, once the day's inspections are complete, I return home and produce the reports for the inspected items.
Engineer Surveyors are required to undertake the statutory examination and meet contractual inspection obligations on customers' equipment. In doing so, they are responsible for ensuring that they comply with all company policies, processes and procedures.
Are there any particular challenges or unusual aspects to your role?
It can be a physically demanding role that may require working at height, lifting and climbing in both hot and cold environments. It involves exposure to noise and dust, so you need to be happy to get your hands dirty! In contrast to this, there is a requirement to work from home, compiling reports and planning your workload.
What do you find most enjoyable about your job?
As an engineer I still get the most job satisfaction examining equipment and finding and reporting defects, which potentially prevents equipment damage and even injury. As a Regional Engineering Manager, I enjoy building and developing my own skills and those within my team.
In order to improve, people need developing, and as an engineer and manager I believe it is vital that I both keep on top of my own and my team's Continuing Professional Development (CPD) and learn new skills and knowledge that will help me in my role. This is done by in-house training, college courses, attending seminars and generally picking up knowledge from colleagues.
It is important in these times of fast-changing technology that we keep up. So, when new machinery and technology is installed, I try to get as much training and information as possible. As my job role changes or grows, it is also necessary to gain new skills and knowledge in order to do my job effectively.
Is there a great professional achievement or high-profile accomplishment that you would like to tell us about?
For me it is important to be able to transfer learning from one situation to another and to be able to put my theoretical knowledge (learnt in the classroom and from over thirty years' practical experience) to use in the workplace. I have managed to do this by using my engineering skills to improve processes and my managerial skills to improve morale and productivity in my team.
My skills and knowledge have been assessed and recognised by the Engineering Council and the Chartered Management Institute (CMI), and I have been awarded the titles of Incorporated Engineer (IEng) and Chartered Manager (CMgr).
What contributed to your decision to become professionally registered?
As a Regional Engineering Manager, it is a requirement that I have appropriate practical and theoretical knowledge. My technical education and over thirty years' experience show this, and as a people manager I think it is equally important that I can demonstrate my managerial skills. By applying for professional registration, I have had the opportunity to learn, reflect on and improve my engineering and leadership skills. And it's great to have that professionally recognised and validated!
In what ways has registration benefitted your career?
For me, gaining professional registration as an IEng is recognition of my engineering achievement and demonstrates this to the wider engineering community. The professional title IEng shows peers, employers and customers your experience, skills and commitment. It is also proof that you have demonstrated competence against an internationally recognised standard.
How does your employer benefit from your professional registration?
My employer benefits from increased technical and managerial credibility with customers. They are assured that employees work to independently assessed standards and are focused on customer needs, as well as knowing that the employees have satisfied a rigorous assessment of their engineering competence. The employer also benefits from enhanced company reputation through the ethical behaviour of their employees.
Is there any advice you would pass on to someone considering professional registration?
If you are considering professional registration you probably fulfil a lot of the criteria needed to achieve this. Start by logging all your CPD activities and reflect on what you have already accomplished, then compare this to the Engineering Council's UK Standard for Professional Engineering Competence (UK-SPEC). It's the standard you will be reviewed against to become an IEng.
Where do you see yourself in your career in five years' time or what are your future ambitions?
I achieve a lot of job satisfaction in my current role, which I find to be a good balance of using my engineering and managerial skills while delivering effective results.
My personal goal is to remain in the role of Regional Engineering Manager, benefiting from all the opportunities for personal and professional development open to me, and continue to use my engineering and managerial skills to their maximum potential.
Outside work, is there any activity you enjoy doing in your spare time that relates to engineering? For example, do you participate in mentoring, volunteering or membership of other engineering groups?
As an IEng, one of the ways I undertake CPD is by being a member and Honorary Secretary of the Bureau of Engineering Surveyors (BES) and member of the Society of Operations Engineers (SOE). This enables me to organise and attend relevant seminars, networking with other Engineer Surveyors and industry experts to share best practice and technical information.
As a CMgr I am a member of the CMI; I attend relevant seminars and take advantage of online learning material and networking with like-minded individuals. My team consists of professional engineers and through my regular interaction with them I am always learning new information and best practice, which I share with my team and others.