Ellsa Mealing BSc (Hons) IEng MIET
Published: 17/08/2018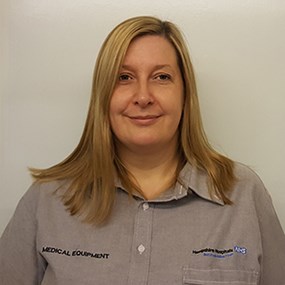 Education and qualifications:
BSc (Hons) Medical Technologies Management, BTEC L3 Electrical and Electronic Engineering, NVQ L2 Engineering Maintenance, Prince2 Project Management and NEBOSH Health and Safety
Job title:
Specialist Medical Equipment Engineer and Deputy Team Leader
Employer:
Royal Hampshire County Hospital Winchester (Medical Equipment) 
What inspired you to become an engineer or pointed you towards an engineering career?
I have always had an interest in how things work. My early career was in the Royal Navy as a Leading Operator Maintainer, where I conducted some minor routine maintenance. I left the Royal Navy to get married and settle down and this gave me an opportunity to pursue a more serious career in engineering. I was lucky enough to gain a trainee post at Derriford General Hospital in Plymouth, where I developed my skills as a junior engineer and since then I have worked tirelessly to achieve my current role as a specialist engineer in medical equipment.
Please describe your role or position within your workplace.
As Deputy Team Leader I am often called upon to take charge in lieu of management, which I relish. It is part of my role to assess defective equipment to determine why it has failed, reporting initially to end users to withdraw and quarantine equipment and where necessary report to the Medicines and Healthcare Products Regulatory Agency (MHRA). Within my role I have to ensure equipment is safe and fit for use in the hospital on patients. This is achieved through thorough testing and inspection; any noncompliance is sent straight back to the Original Equipment Manufacturer (OEM).
Can you describe a typical working day?
No day is the same in my job as every day presents a fresh challenge. I have routine maintenance tasks to complete on various medical equipment daily, such as servicing ventilators, defibrillators, baby incubators, baby resuscitators to name but a few. However, this all stops when we have urgent jobs come in such as an anaesthetic machine not working mid-operation. I like the ever-changing environment and the daily curve balls sent my way and at the end of the day the patients must come first.
Are there any particular challenges or unusual aspects to your role?
We are a small team of engineers at Winchester and as such must work as a tight knit team. It can be challenging when you have to switch from task to task quickly and it's essential that I keep up-to-date with current regulations and standards as well as developments in technology. Most departments have bigger teams and as such have capacity for teams to specialise. I have a broad range of medical equipment to keep up-to-date with, which makes me a versatile engineer but is also hard work.
What do you find most enjoyable about your job?
I like the ever-changing pace of technology and how we can best implement it through commissioning of new equipment for the benefit of the patients and NHS Trust. I also take great pleasure in conducting teaching sessions for clinical staff on the equipment they use. After all, they need to keep up with technological advances too and in an ever-busy NHS there is not always time to learn on the ward. So far, my training sessions have all been well attended and I have received some positive feedback. I also enjoy doing technical evaluations of equipment and testing them fully prior to trialling of equipment and have acted as technical advisor to a couple of equipment procurement projects.
Is there a great professional achievement or high-profile accomplishment that you would like to tell us about?
Implementation of training for users of medical wall suction, the suction controller used to (remove a foreign substance from a patient through a wall-mounted vacuum), including drafting training material and writing standard operating procedures. Additionally, I have instigated audits on staff training and standard operating procedures as a means of measuring the level of knowledge and also as feedback to my training. Since I first began this project in 2008, the awareness and standard of testing of equipment has improved significantly. I have now repeated this project for the last four hospitals I have worked in and as a result medical staff are more confident in the correct use of suction equipment and ultimately patient safety has improved.
Recently my institution, IET, nominated me for the Baroness Platt of Writtle Award. The award recognises the achievements of outstanding, newly registered Incorporated Engineers (IEng) across all disciplines. I am very proud to have been the only woman on the short-list.
What contributed to your decision to become professionally registered?
Being registered is something I have always aspired to. Becoming registered as an Incorporated Engineer is a recognition of my level of competence within the engineering profession and beyond, and I believe sets me apart from those engineers who are not registered. Being an Incorporated Engineer also formally obliges me to undertake Continuing Professional Development (CPD) as the learning never stops and I want to be able to demonstrate that I am moving with the times and remaining up-to-date with current matters.
In what ways has registration benefitted your career?
The stipulation for being offered my current position was that I gained registration as IEng. As a result, I have achieved a pay rise and am now pursuing registration as a Chartered Engineer in the future.
How does your employer benefit from your professional registration?
By being able to demonstrate to outside organisations that the engineers employed at my hospital are at a nationally recognised level of professional competence.
Is there any advice you would pass on to someone considering professional registration? Advice I would give to anyone considering professional registration would be to do it sooner rather than later. It sets you apart from other engineers and it sets you on a good standing for any future career development as an engineer. It can also act as a bargaining chip when negotiating for higher wages or promotion.
Where do you see yourself in your career in five years' time or what are your future ambitions?
In the next five years I would like to gain an MSc while working towards my Chartered Engineer status. I would also like to manage my own engineering department.
Do you participate in any other career-related activities, such as mentoring, volunteering or membership of other engineering groups?
I currently like to volunteer with the Green Power team when I can. They inspire young people to take an interest in Science, Technology, Engineering and Maths (STEM) through a unique challenge: to design, build and race an electric car. So far, I have helped out at race events marshalling, timing and critiquing, which I find very interesting and fulfilling. The next step for me is to become a STEM ambassador in my local area of Portsmouth and help to influence interest in STEM in young adults.
Outside work, is there any activity you enjoy doing in your spare time that relates to engineering?
I like old classic cars and enjoy attending events such as the Goodwood Revival and the Festival of Speed. I have a four year-old son who keeps me busy in my spare time, but we build STEM inspired small cars, boats or anything relating to engineering and technology.