David McDermott IEng AMRAeS
Published: 12/02/2018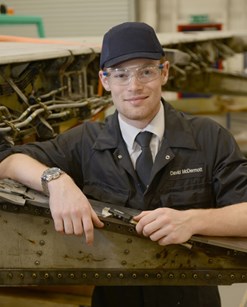 Name: David McDermott IEng AMRAeS

Education and qualifications: BEng (Hons) Aerospace Engineering, University of the West of England

Which Institution are you a member of? Royal Aeronautical Society (RAeS)

Current job title: A320 Wing Design Engineer

Company: Airbus UK

Started in current role: 2014

Approximately how many staff are employed by your company? Approximately 10,000 in the UK

Where are you based? Filton, Bristol 
Please describe your current role and a brief outline of your career so far
I work on the design and development of the Airbus A320 Wing, contributing to the evolution and improvement of the structural elements of the wing. This primarily involves modifications that introduce weight savings and time savings during manufacturing. I also provide support to the in-service fleet. As a designer I create engineering documentation such as drawings as well as computer-aided design (CAD) models of detail components and assemblies. 
I joined Airbus in September 2012 aged 17 as an Undergraduate Apprentice and after the 36 month programme I was employed as a full time engineer having both graduated from university and completed the Level 4 NVQ Advanced Apprenticeship framework. 
Have you worked on any unusual or high profile projects?
Throughout my Apprenticeship I was fortunate enough to experience the diverse departments at the Airbus facilities in Filton. I began in the A400M Wing department and then rotated on three and six month placements gaining an insight into Structural Testing, Wind Tunnel Testing, In-Service Repairs and then several design roles within the A320 Wing team. 
I also volunteer with Airbus Filton's first "Flying Challenge" which is part of a global youth mentoring programme by the Airbus Foundation. We have partnered with a local school to introduce 30 pupils between 13 and 14 years old to the world of aviation over 20 weekly sessions. The objective is to provide students with the chance to learn about STEM subjects, with an emphasis on aircraft, through 'hands on' exercises and theory sessions. The aim is to provide opportunities to develop important life skills such as leadership, teamwork and communication. 
How did your Apprenticeship come about and please give some details about your experience. Would you recommend an Apprenticeship?
I went to high school in the North East of Scotland and had intended to first join the RAF as an Engineering Officer, but after an unsuccessful application I explored university options. At the same time I looked at all of the Aerospace companies I could think of and applied for the Undergraduate Apprenticeship with Airbus. I visited Bristol for the first time for the interview and moved down three weeks later! 
The scheme leapt out at me because it uniquely combined the work experience I wanted and the university studies that open the door to career progression. The three years were fantastic. There were 13 of us who started and finished the scheme together and there was a real team spirit between us. Having the opportunity to work with more experienced and senior engineers whilst studying was incredibly beneficial when it came to exam preparation for subjects I was less strong on and many of my placement mentors were former apprentices who could relate to what we were going through on our scheme. 
I like to attend events at schools and airshows on behalf of Airbus to share the benefits of what this scheme has to offer, as well as discuss STEM subjects and demonstrate science in interactive displays. The one bit of advice I always give is that you should take all the opportunities that come your way and that the ones that may seem small can often lead to much bigger things. 
What spurred you to work towards registration as an Incorporated Engineer (IEng) and describe your experience of becoming professionally registered.
I was encouraged by my Early Careers manager of the benefits of becoming an Incorporated Engineer and many of the engineers I was working with were Chartered Engineers (CEng) or working towards it. We had several information sessions with Airbus employees who shared their experience of the application process. From early on in my Apprenticeship I began recording evidence to build my portfolio steadily and ensure I had met the competences by the end of the scheme. I had the flexibility to tailor my later placements so I could gain some specific experience in planning and managing to support my evidence in this area. 
I presented evidence recorded over a three-year period across my six placements, as well as university experience. I submitted my application in October 2015, attended a local interview the following February and was registered with the Engineering Council in May 2016.
What advice would you give someone considering professional registration as an IEng?
I think the first step is to explore the opportunity. It was really beneficial for me to hear from previous IEng registrants. By simply weighing up the pros and cons it was easy to see how much of a positive, one-sided comparison it turned out to be. 
How has becoming an IEng benefitted your career?
Becoming professionally registered with the Engineering Council is widely recognised within Airbus and as I intend to build on a specialism within design, being an Incorporated Engineer will support my ambition to progress and take on growing levels of responsibility. Becoming registered is a proof of ability in many areas required of the more senior roles I will be aiming for in the future. These include technical knowledge and understanding, management skills, and areas like company ethics, responsibilities and personal behaviours. 
What are your future career goals?
At the moment I'm really enjoying my position in design and see myself staying and building on my knowledge of this discipline within Airbus. The industry is very fast paced and new projects are never too far away. The opportunity to work on new designs is something I would like to be involved in in the future. I intend to work towards gaining technical signatory and increasing my ability to hold responsibility, which can only be achieved through experience. However, my ambitions have always been to become a commercial pilot! It would be a tough decision to leave engineering, but if an opportunity arises to begin a cadet scheme with a British airline I think I would definitely consider it. Dreams are there to be achieved if you really want them.
Do you participate in any other career-related activities, such as mentoring, volunteering or membership of other engineering groups?
I try to actively participate in local RAeS events during the year and also attend some of the central lectures and events in their London HQ.
Outside work, is there any activity you enjoy doing in your spare time that relates to engineering?
I have been fortunate enough to win a Flying Scholarship from The Air League in 2017 which has started my Private Pilot Licence (PPL) training. Outside of work I enjoy the ground school in preparation for the flying hours. I also attend The Air League events and lectures, including volunteering at airshows on behalf of The Air League.