David M Williams IEng MWeldI
Published: 17/04/2019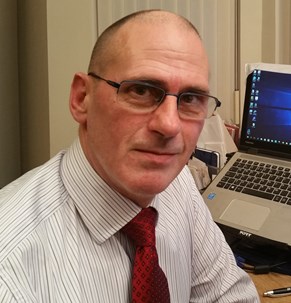 Education and qualifications:
City & Guilds Welding and Allied trades, Journeyman Welder, Canadian Welding Bureau (CWB)
IWS, Master Welder (Schweiβwerkmeister) Certification Scheme for Welding and Inspection Personnel (CSWIP) Level 2
Registered Senior Welding Inspector CSWIP Level 3
Current job title:
Senior Welding Engineer, Responsible Welding Coordinator and Director of WECAS Limited
Company:
WECAS Limited
Approximately how many staff are employed by your company?
> 60 employees
Where are you based?
Glenrothes, Fife, Scotland
Can you describe a typical working day?
I am a Director at WECAS Limited and in my current role, manage a range of welding activities. Some of my responsibilities include: the management of welding requirements (skills and equipment), the evaluation of proposed ideas and the preparation and authorisation of weld production, which involves capturing and recording relevant information.
Please provide a brief outline of your career so far.
I left the army in 1991 and started my career as a Fabricator Welder, building household interior fittings for a company in Paderborn, Germany, with a qualification from City & Guilds in Welding and Allied Trades. I then went on to work as an Installations Supervisor and Technical Manager, for a company in Dörth, also in Germany. Here I managed fabrication of transfer lines and the installation of machinery on a project worth $10m. On returning to the UK, I began working as a Welding Engineer at Corewire Limited in Ash Vale near Aldershot, which was the first milestone in my career; this role involved the metallurgical aspects of materials and contributed towards my development and passion for welding.
After Corewire Limited, I worked in Austria for Fronius International, where I gained an understanding of the enormity and diversity of the welding discipline and also studied for my International Welding Specialist (IWS) and Master Welder (Schweiβwerkmeister) qualifications.
What contributed to your decision to become professionally registered?
There are a number of reasons that led me to applying for Incorporated Engineer (IEng) registration. I spoke with a member of the training department at the Welding Institute (TWI) who had advised me on applying for the professional title. At the time I doubted myself and thought it was too late to start the application process, but with some hard work, dedication and already having the knowledge and experience, it seemed achievable.
After reading about IEng, I realised that this would be the perfect opportunity to enhance my career. Being IEng demonstrates my ability and skills and shows potential employers, peers and colleagues my dedication and commitment to the field. Professional registration has given me a confidence boost to work at a much higher level than I would have previously done. I have also noticed a greater degree of respect and I feel more accepted, working at this level.
How did you become professionally registered?
Before applying for the IEng title, I was a registered Engineering Technician (EngTech). Having completed the Certification Scheme for Personnel (CSWIP) qualifications with TWI, I was able to register and apply for EngTech with the Engineering Council and as Technician with the institute, gaining the post-nominals EngTech TechWeldI. Soon after receiving a welcome pack congratulating me on becoming EngTech from the Engineering Council, I began to look into the professional routes available to becoming IEng.
I began the process by contacting TWI to enquire about the prerequisites to becoming IEng. I spoke with a representative of the institute who was very helpful and guided me through this process and I was assigned a mentor by TWI. My mentor reviewed the information I supplied as part of my experiential report and guided me through the process of formatting and constructing my experiential portfolio. I also spent a great deal of time on the Engineering Council's website.
I chose the experiential route for registration, which involved creating an experiential report of my career. The experiential report described several projects that I'd worked on; I also provided evidence of underpinning knowledge I'd applied during the different stages of my professional career. To my surprise, the document I had complied came to over 1,600 pages long. I did not submit a technical paper but did include a number of technical papers in my final portfolio, which were quite extensive and detailed.
This process took a year for me to complete. It is important to factor in work and personal commitments as these can add to the process taking longer. I found it difficult to remember career activity from the past and due to the demands of my job I dedicated a lot of my personal time to the process. The process required me to be self-motivated and dedicated. It also helped me focus on the future achievements the process would bring once completed. However, once it was over, I knew that the time spent, and the hard work invested was worth it.

How has professional registration as an IEng benefitted your career?
Becoming an IEng has allowed me to get closer to my professional goal of becoming an International Institute of Welding (IIW) recognised International Welding Engineer/European Welding Engineer (IWE/EWE), while also allowing me with the opportunity to volunteer as a mentor. I would like to complete a Masters degree, the Welding Engineering MSc. I would also like to volunteer at TWI, continue my professional development, complete a Six Sigma course (a data-driven approach and methodology for eliminating defects in any process, which describes quantitatively how a process is performing) and become a Chartered Engineer (CEng).