Chris McGinness BEng IEng MICE
Published: 03/10/2019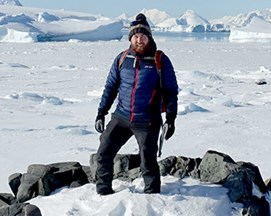 Education and qualifications:
BEng (Hon), Civil Engineering, University of Strathclyde
Job title:
Lead Planning Engineer, British Antarctic Survey (BAS) Construction Partnership and Regional Planning Manager, Scotland
Employer:
BAM Nuttall Ltd
What inspired you to become an engineer or pointed you towards an engineering career?
In school I enjoyed a wide range of subjects both creative and analytical. My strengths were in subjects like Art and Design, Mathematics and Physics and I was inspired through reading case studies and watching documentaries to become a building design engineer. I settled on a building design course which was part architecture and part civil engineering, but it wasn't until I started at university that I began to appreciate the variety and scope of civil engineering. I decided that the hydrology labs, concrete mix tests and geological studies were far more interesting and tangible than architectural theory. Fortunately, I managed to change course quickly and have loved civil engineering ever since.
Please describe your role or position within your workplace.
My key role as Lead Planning Engineer is to support the project management or bid teams through the provision of an effective planning function for any type and value of tender as well as scheduling and project performance reporting. I also contribute to post-tender negotiations and handover to the project team as well as coaching others to do the same. Depending on the needs of the project, I also carry out a number of other roles including development of methodology, site logistics and temporary works, which all feed into the overall plan for the works.
Additionally, I have recently been promoted to Regional Planning Manager for Scotland, meaning I manage the planning team within the division as a whole and report to the Divisional Director.
Can you describe a typical working day?
Usually, I work between a permanent office in Glasgow and travel to project offices in the UK or Netherlands two days per week. Generally, I will have two to four meetings or workshops during the day which will focus on the development of methodology, detailing of the design to facilitate the preferred methodology and meetings with specialist suppliers or experts within the company to gain specific advice to solve the technical challenges of the project. In between these focussed meetings I will combine the decisions made into a clearly communicated plan by using 3D visualisations, Excel schedules or Gannt charts.
Are there any particular challenges or unusual aspects to your role?
Much of my role is about communication and as a planning engineer I have three "customers" which are the project/bid team, the commercial team and the client. When working in large international teams with differing experience and cultural background it is important to understand how they absorb and disseminate information differently and I adjust my own approach accordingly. It is common that the same information must be communicated in a number of different ways and while this can be an interesting challenge, it also adds an empathetic element to my day-to-day role.
What do you find most enjoyable about your job?
My job is different every day but always gives me the opportunity to challenge, question and analyse. This means I have access to a wide range of expert resources, so I can ask questions and really understand technical challenges and how to solve them in the most efficient manner. This access and my enthusiasm for civil engineering means I am always learning new things and investigating new solutions. This has accelerated my personal development and given me great confidence.
Is there a great professional achievement or high-profile accomplishment that you would like to tell us about?
In 2018 I was awarded the Institution of Civil Engineers (ICE) Tony Chapman Medal for the best Incorporated Engineer (IEng) candidate and shortly afterwards was highly commended in the Worshipful Company of Engineers' Baroness Platt of Writtle Award. Both awards were a great experience and raised my profile within the industry. This also gave me the opportunity to reconcile my experience and talk about my current role as Lead Planning Engineer on the British Antarctic Survey Construction Partnership. This project is one of the most interesting projects I have ever worked on and even gave me the opportunity to visit Antarctica in November 2017.
What contributed to your decision to become professionally registered?
I have always felt it is important to measure my own progression and after ten years' experience in the industry felt that professional membership was the best test of this.
In what ways has registration benefitted your career?
I have gained a lot of experience in report writing, collating evidence and presentation skills through the period of personal development preceding my professional registration and also enjoyed the reflection on past projects as a good reminder of the things I have achieved.
The role of a "planner" can be very different on different projects and varies from simple scheduling using planning software, to the overall development of solutions to solve the engineering challenges of a project. I feel that being professionally registered reinforces the idea that my knowledge base is in the latter of these and means I can continue to focus my career on the parts of my job I most enjoy.
How does your employer benefit from your professional registration?
BAM Nuttall identify themselves as experts in civil engineering. To underpin this assertion, it is important to have professionally recognised staff.
The process of personal development for each person aiming to become professionally registered is very valuable to the company since the attributes required and behaviours desirable for the ICE is reflected in the company's values and role profiles.
Finally, the personal reflection required to write reports and evidence for professional development and the professional reviews can also be valuable in giving employees a sense of pride in remembering good projects and therefore reinforce loyalty to the company. Alternatively, it gives reminders of what could be done differently in projects which didn't go so well.
Is there any advice you would pass on to someone considering professional registration?
Go for it and start now, there will never be a quiet period for reflection but if you prioritise it you will get through it. You may not know the benefits until you have gone through the whole process; whether it's a reminder of what you have achieved or practice in presentation and written communication, giving you more confidence. Perhaps the industry recognition will raise your profile, opening doors you didn't see before?
Where do you see yourself in your career in five years' time or what are your future ambitions?
I have recently taken on a more senior technical role in the business, where I hope to make an impact in implementing best practice throughout the business and developing the division's planning team through coaching and mentoring.
Do you participate in any other career-related activities, such as mentoring, volunteering or membership of other engineering groups?
I am a Construction Ambassador for BAM Nuttall with a key role to promote Science, Technology, Engineering and Mathematics (STEM) careers.
Outside work, is there any activity you enjoy doing in your spare time that relates to engineering?
I like to go hill walking around Scotland which gives me chance to study the varying geology in the hills and also to look at some of the impressive dams and reservoirs which keep Scotland in supply of fresh water (it's not just the volume of rain you know).