Lloyd Clough EngTech MICE
Published: 01/04/2016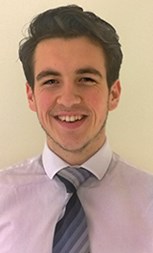 Education and qualifications:
BEng (Hons) in Civil Engineering
Masters student MSc Civil and Structural Engineering
Current job title:
Freelance Structural Engineer and student
Company:
Self-employed and attending Aalborg University, Denmark
Please briefly describe your current role and a typical working day:
I currently study forms of structural analysis as part of my Masters degree at Aalborg University. Their Problem Based Learning model means I am always working in a team, researching theories and solving problems. Outside of the classroom, I work as a freelance Structural Engineer for projects in the UK, anything from wall removals to house extensions and loft conversions. This is satisfying, small scale work.
What is the greatest challenge you face in your job?
For me, moving to a new country to live and study, alongside work and heavy theoretical courses at university is a lot to take on. However, with seven years' work experience behind me, I have learnt that you must be able to juggle multiple tasks at the same time in structural engineering, and I wouldn't let aspiring engineers be put off at the thought. It is very rewarding.
What do you most enjoy about your job?
Problem solving is hands-down the most rewarding part of any engineering job. People approach you with a problem and entrust you to solve it with your expertise. As that expertise grows, so does the amount of trust and size of the problems to solve. Anybody looking to become an engineer should enjoy to working individually as well as in teams.
Please provide a brief outline of your career so far.
In 2011, having finished my AS-Levels, I approached a small structural engineering consultancy (Morrish, in Bury St Edmunds), for some work experience, having seen some of their drawings for a construction project. This led to two weeks' experience, and then those two weeks led to a full training agreement which took me (while studying part-time) through my college and then Bachelors degree from London South Bank University. I am so, so lucky to have had this support and start to my career.
From this, I decided I wanted to study abroad for my Masters (my girlfriend is Norwegian so in Scandinavia preferably!) and applied for Aalborg University in Denmark, which is fourth in world rankings for the Civil Engineering taught courses department. Now that I no longer work for Morrish, I carry out structural engineering work on a freelance basis for small residential projects in the UK, while attending university.
What made you choose this career path?
At school I was in the Air Training Corps and was always fascinated by the RAF and engineering in general. My stepfather is a site manager for one of Morrish's clients and he would always bring technical drawings home which I was very interested in. The introduction to Morrish Consulting Engineers came from there.
What spurred you to work towards gaining professional registration as an EngTech?
I explored the various qualifications and titles you can gain as an engineer and decided that joining the Institution of Civil Engineers (ICE) was the natural option for me. I hoped that this institution would open my eyes to the industry as a whole and the further opportunities such as the design of roads, tunnels, bridges and marine structures. I researched my eligibility for the different registration grades and discovered that becoming an Engineering Technician (EngTech) with the Engineering Council required a National Diploma as an educational base, and I began to record my professional development and any small gems of knowledge I picked up through my working days at Morrish.
How did you become registered as an EngTech?
I followed the recommendations from ICE, completing a variety of development objectives, which ensured I was developing the relevant engineering skills and qualities. This was great advice. By focusing on specific objectives, I really pushed myself and by ticking them off as I achieved them I began to realise how much progress I was making. This process provided tangible evidence of my competence.
How has achieving EngTech benefitted your career?
Having achieved EngTech and gained these post-nominals, it gives me confidence to have technical conversations with my peers. As a recognised mark of professionalism, it helps to generate an immediate level of trust with clients.
I also think it has helped me to develop more quickly as a trainee engineer by giving me the drive to learn more and meet other young professionals going for the same level. I would recommend it to anyone.
What advice would you give someone considering professional registration as an EngTech?
Go for it! Becoming professionally registered is so worthwhile for yourself and the company you work for and I would advise starting as early as possible, before other commitments potentially delay you.
What is your employer's attitude? Were they supportive while you were working towards professional registration as an EngTech?
My employer was incredibly supportive. Morrish gave me huge opportunities, including a placement in China through university, for which I cannot thank them enough. Their ethos was to develop everyone's careers as much as possible which has helped me endlessly. I think it is important to have a supportive company and sponsors who want you to succeed as much as you do.
How does your employer benefit from you being professionally registered?
It raises the professional profile of the company as a whole and shows a commitment to professional standards.
How do you feel about winning the Jean Venables Medal for newly qualified Engineering Technicians?
When I won I was absolutely ecstatic, is all I can say. Never did I think I would be nominated for such an award, let alone win! After my review my two professional reviewers were very kind with their feedback and told me they had put me forward for the medal. When I found out I had made it to the final, whatever the outcome, I was overwhelmed that I had made it that far. The final involved another interview with ICE standard panellists. At the time I was working on a very interesting project at Center Parcs, Elveden Forest, and I was excited to be able to present on this at the interview. I was told that it was my enthusiasm and dedication to the 'extra-curricular' work I do that brought me out on top. I really have to thank Morrish again for allowing me to have been part of such an interesting project.
What are your future goals?
My current goal is to obtain the highest grade on my MSc course, and enjoy Denmark as much as possible! Beyond the degree, I am still unsure whether I want to continue to pursue the self-employed route, or to aim for a great graduate position. Time will tell, but I am very content with where I am and still very happy I have chosen such a highly challenging yet rewarding career path.

Lloyd Clough EngTech MICE


Registered: 2015