Lee Goldie EngTech MCIPHE
Published: 04/09/2018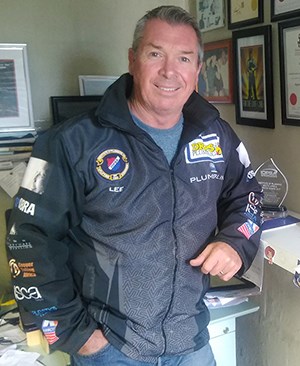 Which institution are you a member of?
Chartered Institute of Plumbing and Heating (CIPHE)
Job title: Director, Drips Plumbing
What inspired you to become an engineer or pointed you towards an engineering career?
Technical engineering has surfaced as a skill that blends perfectly with sound entrepreneurial activity. Aspiring to lead in a field of expertise and afford a great lifestyle is key to fulfilment. Engineering is a perfect choice of career.
Can you describe a typical working day?
A committed and professional logistics staff deploy teams of plumbers and their crews to various sites and I spend my day solving day-to-day challenges that come with the technical applications of plumbing systems. In addition, time is set aside to work on the business and ensure that we run a tight ship.
Are there any particular challenges or unusual aspects to your role?
Plumbing maintenance is very demanding; there are no plans or handbooks for faulty water reticulation and heating systems when it comes to maintenance. I have to draw on my 35 years' experience and gut feel to provide solutions and get the job done. Keeping the customer happy is a constant challenge but my difficult customers teach me the most!
What do you find most enjoyable about your job?
Every day is different and there is never a dull moment. Being recognised as a professional in my field and treated as such, leverages the value proposition related to costs and makes it worthwhile. A job well done creates a happy customer and healthy return for the effort.
Is there a great professional achievement or high profile accomplishment that you would like to tell us about?
Drips Plumbing is the founding member of Institute of Plumbing South Africa (IOPSA) and I have enjoyed many terms on the Executive Committee since its inception in 1988. I also served as Vice President for two terms from 2008 to 2012.
What contributed to your decision to become professionally registered?
The increasing demands in the technical design field of modern plumbing installations contributed to my decision. An engineering registration enhances my profile and sets me apart from competition.
In what ways has registration benefitted your career?
My engineering post nominals convey professionalism and expertise. This also translates directly to ethical and responsible trading and puts me above my competitors.
How does your employer benefit from your professional registration?
While enjoying the benefits of self-employment, I don't forget that my staff look up to me to lead in the pursuit of better standards and to maintain a quality customer base. After all, they pay the bills!
Is there any advice you would pass on to someone considering professional registration?
Registration means commitment. Aspire to be the best at what you do.
Where do you see you in your career in five years' time or what are our future ambitions?
I plan on doing more consulting work and hopefully building a team of suitably qualified people to provide plumbing engineering advice, design and quality control to our industry. (I'll make sure that Drips Plumbing is my first and most loyal customer!)
Do you participate in any other career-related activities, such as mentoring, volunteering or membership of other engineering groups?
My work with the World Plumbing Council (WPC), Institute of Plumbing South Africa (IOPSA) and Plumbing Industry Registration Board (PIRB) have taken me around the globe. I intend to bring together those experiences and activities into a legacy apprentice mentoring programme here in South Africa.
Outside of work, is there any activity you enjoy doing in your spare time that relates to engineering?
I try my best to separate work from quality family time, although it's reassuring to know that engineering can be both a vocation and a hobby.