Kelly De-Maria EngTech MCIHT
Published: 01/05/2019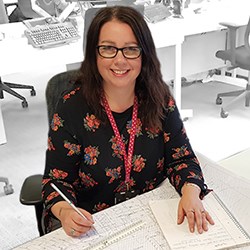 Education and qualifications:
BTEC Certificate of Achievement: Highway Design (with Merit)
HNC: Civil Engineering (with Distinction)
HND: Business & Finance
A Levels: Business Studies, Geography, Environmental Science
Job title:
Estate Roads Engineer
Employer:
Somerset County Council
What inspired you to become an engineer or pointed you towards an engineering career?
I started work as an Administrator for an engineering consultancy in 2005 knowing very little about engineering. I quickly found an interest in civil engineering just working in an environment where my engineer colleagues were working on some exciting highway projects. I knew I wanted to become involved on a more technical level and so when I started work for the Transport Development Group at Somerset County Council I put myself forward to undertake the HNC in Civil Engineering.
Please describe your role or position within your workplace.
I work in the Estate Roads Team within the Highways Development Management department. My role entails ensuring new housing development roads are designed and implemented to adoptable or appropriate standards.
Can you describe a typical working day?
A typical day involves dealing with queries from developers, designers and contractors (via email, telephone and face-to-face), carrying out technical assessments of engineering drawings, providing comments in regards to estate roads for the planning consultation process and visiting sites to carry out inspections prior to road adoption.
Are there any particular challenges or unusual aspects to your role?
My job can be challenging as I have to ensure that housing development roads are suitable for adoption while being mindful of the developer's and Planning Authority's vision for the development as a whole.
What do you find most enjoyable about your job?
The thing I find most enjoyable about my job is the variety of skills I am able to use on a day-to- day basis. No two days are the same. Some days can be very technical or involve site visits, whereas other days can be more related to planning or legal agreement progress. I also deal with a wide variety of people on a daily basis, which really helps to broaden my knowledge of civil engineering projects as a whole.
Is there a great professional achievement or high-profile accomplishment that you would like to tell us about?
Having never studied anything related to engineering, I was apprehensive as to how I would get on with studying civil engineering at HNC level. I was pleasantly surprised when I found, with the help of some great tutors, that I had a really good grasp of the subject and (more importantly) discovered a real enjoyment in learning about engineering. I went on to achieve a Distinction, which I was incredibly proud of.
What contributed to your decision to become professionally registered?
I was very keen to become professionally registered so that my employer and the engineering profession as a whole could see I was dedicated to my career as an engineer. I also wanted to demonstrate that I work professionally and to a high standard. On a more personal note, I really felt it would give me a sense of achievement and I enjoyed the assessment process as it gave me a chance to look back over what I had learnt so far.
In what ways has registration benefitted your career?
Registration has benefitted my career as I have been able to add another level of professionalism to my CV and it has also meant I have been involved in some great training at work as part of Continuing Professional Development (CPD).
How does your employer benefit from your professional registration?
My employer benefits from my professional registration as it means I work to a certain standard of professionalism at all times. Because the registration required a demonstration of CPD, I was able to attend training courses that have enabled me to carry out my job with a better knowledge and understanding.
Is there any advice you would pass on to someone considering professional registration?
Do it! It is a great opportunity to become more involved in the industry. It encourages training, which will give you more confidence in your working life and broadens your knowledge. It also gives you a great opportunity to reflect on your career to date and to look at where your strengths may lie in the future.
Where do you see yourself in your career in five years' time or what are your future ambitions?
I thoroughly enjoy working in the highways industry and I would really like to work on some larger projects in the future. I am also particularly interested in geotechnical engineering.
Do you participate in any other career-related activities, such as mentoring, volunteering or membership of other engineering groups?
In 2015 I was asked to become a mentor for a Technical Trainee who was starting in our department. I was on hand to offer advice and help during their first two years while they undertook their HNC in Civil Engineering alongside work-based training. I found this really rewarding and it helped me develop another set of skills.
Outside of work, is there any activity you enjoy doing in your spare time that relates to engineering?
My husband and I are both civil engineers and so we have been known to visit new highway infrastructure or bridges on our travels! I also really enjoy looking at coastal engineering, such as the measures that have been put in place at Lyme Regis in Dorset to limit coastal erosion.