Jade Mills EngTech MICE
Published: 28/06/2017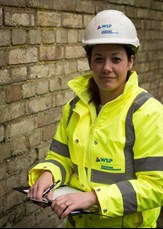 Education and qualifications: Higher National Certificate in Civil Engineering
Which institution are you a member of? Institution of Civil Engineers (ICE)
Grade of membership: EngTech MICE
Job title: Engineer – Bridges and Ground
Employer: WSP | Parsons Brinckerhoff
Length in current job: 8.5 years
Please briefly describe your current role and a typical working day: As project manager of my own highway bridge and retaining wall schemes, my typical working day ranges from producing feasibility reports, approval in principle documents to preconstruction works packages. This includes producing drawings and design calculations. My role also involves consulting with councillors, local residents, ecologists and statutory undertakers. I act as 'Supervision in Chief' on site to ensure works are completed as per the design. I am also responsible for the construction records to ensure as-built information is provided to the client.
What made you follow this career path and what do you most enjoy about your job? I completed a National Apprentice in Business Administration with Cornwall Council. Once I achieved my NVQ level 2, I applied for jobs internally. I gained employment to undertake clerical duties within the Traffic Signals department and the Contractors offices. I quickly took an interest in designing layouts for traffic signals, completing a City and Guilds course in the use of 2D and 3D AutoCAD.
Mostly I enjoy working within a dynamic and vibrant team of technicians and engineers. No one scheme is ever the same, they all pose different challenges. This inspires me to develop my skills and act innovatively on a daily basis.
Please provide a brief outline of your career so far: I began my career in engineering with Cornwall Council Traffic Signals department in 2001. In January 2003 I was offered the opportunity to work within the Structures Team working as a computer-aided design (CAD) technician (under training) while I studied part time at the University of the West of England, completing a Higher National Certificate in Civil Engineering in 2007. Since then I have gained further experience in the private sector working for MBA Engineering Consultancy, Mouchel and WSP | Parsons Brinkerhoff.
I am currently an engineer working alongside technicians, graduates and Incorporated and Chartered Engineers, working on structures strengthening schemes, refurbishment schemes (£25k to £250k) and multi-disciplinary regeneration programmes within the Civil, Bridge and Ground section of WSP | Parsons Brinckerhoff.
What spurred you to work towards gaining professional registration as an Engineering Technician (EngTech)? I always wanted to gain professional qualifications in recognition of my engineering experiences and successes. When looking into becoming an Engineering Technician previously the process had seemed complicated. My regional representative from the Institution of Civil Engineers (ICE) set up a series of workshops about what academic qualifications and experience would be necessary to achieve EngTech and advised us on the process. I found these workshops invaluable. Knowledge sharing with other professionals really helped, as well as having strict deadlines to work to. Through hard work and dedication I received my EngTech in August 2016.
Describe your experience of becoming an EngTech: I am currently working part time and have two small children so was conscious I did not have much spare time to complete the application or prepare for my review. With the support of my family and my employer I found the process relatively straight forward as long as I remained focused and determined to achieve my goals. I was nervous about my ICE review, however I was surprised at how much I relaxed and enjoyed talking to the reviewers about my career and the delivery of my schemes.
My employer could not have been more supportive during the EngTech process. I was put in contact with technicians and engineers in the company who had recently achieved EngTech and they shared their experiences. As well as allowing me time to meet with my mentor, a Chartered Engineer, complete my application form and sit mock reviews, a reward scheme is also available to provide an incentive to emerging professionals.
Through the workshops set up by my regional ICE representative I feel I have also built up a good relationship which will help me to further my career, as I work towards becoming an Incorporated Engineer (IEng) in 2018.
What advice would you give someone considering professional registration as an EngTech? Don't put it off, get in touch with your institution's regional representative and look into what support is available in your area. Attend webinars and seminars as soon as you can. Achieving your EngTech is a great benefit to yourself and your employer.
As an ICE member I would also highly recommend attending the ICE headquarters in London to gain an insight into the Institution and its history. Attending the certificate presentation ceremony there was definitely a highlight of my career.
How has achieving EngTech benefitted your career? Since achieving my EngTech I feel that I have been recognised for my engineering knowledge and experience within my peer group, the wider company and the industry. I am now able to share my knowledge and mentor others in becoming EngTech.
Becoming a Technician Member of ICE has also given me the drive to progress. Being part of an Institution that is focused on 'Shaping the World' is an amazing achievement and this starts with us, the civil engineers of today and tomorrow, and the work we do within our local communities.
How does your employer benefit from you being professionally registered? It raises the professional profile of the company and shows clients that they value experience and training, which makes them stand out during the bidding process. It also demonstrates to existing and future clients that the company has and maintains high standards. In a competitive industry, by supporting their employees through the professional qualification process my employer can attract new talent and secure a skilled workforce.
Do you intend to progress to become an Incorporated Engineer (IEng)? Yes, my intention is to apply for IEng in 2018. I have researched my route through the ICE website and have already attended seminars to gain a higher understanding of the Technical Report Route. I hope to gain further technical experience so that I am confident when undertaking the technical aspect of my review.
What are your future career goals? My immediate career goals are to mentor other technicians with their application for EngTech and register as a mentor with the ICE. In the longer term I would like to progress to Senior Engineer, continuing and progressing my involvement in the design of projects, and achieving Incorporated Engineer status.