Chloe Etheridge EngTech MICE
Published: 19/06/2017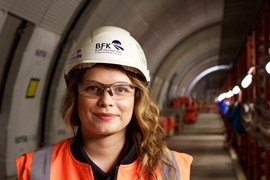 Education and qualifications: Level 3 Advanced Apprenticeship in Civil Engineering (including Level 3 BTEC Diploma in Construction and the Built Environment; Level 3 NVQ in Construction Contracting Operations; HND in Construction and the Built Environment (Civil Engineering))
Which institution are you a member of? Institution of Civil Engineers (ICE)
Grade of membership: Technician Member
Job title: Site Engineer
Employer: BAM Nuttall
Length in current job: 4.5 years
Please briefly describe your current role and a typical working day: I currently work on the Crossrail project constructing the new Elizabeth Line at Farringdon Station in central London. This project has included major reinforced concrete works, sprayed concrete lining tunnel construction, and we are now installing the architectural finishes. The beauty of my job is that there is no typical day. Each day brings new challenges and experiences. If I were to generalise a normal working day for an engineer on the project, it would consist of planning future works including working out methodologies and ordering resources, providing technical information for the workforce, checking installed works and communicating with our client, designer and sub-contractors.

What made you follow this career path and what do you most enjoy about your job? I fell into Civil Engineering. Nearing the end of my Art and Design studies I realised further education in that area was not for me. I therefore began researching alternative options in line with my interests. This was the first time that I came across Civil Engineering and it seemed like an ideal career path for me. A career in Civil Engineering includes endless learning, problem solving, organisation skills, overcoming challenges, visualising and creating design, balancing and managing resources, and ultimately building exciting infrastructure to really make a difference to our lives. What I most enjoy about my job is the collaboration and teamwork of a variety of skilled and experienced people to successfully create something from concept to reality.

Please provide a brief outline of your career so far: I began my career in Civil Engineering in October 2012 when I joined BAM Nuttall's Advanced Apprenticeship programme, which I completed in April 2016. During that time I finished my academic studies and gained invaluable site experience through a block placement arrangement, working on various sections of the Crossrail project. Much to my surprise, in 2014 I won the Crossrail General Construction Apprentice of the Year. This was testament to my dedication to the job, positive attitude and giving everything one hundred percent. Civil Engineering is certainly a career where you get out what you put in. Since completing my Apprenticeship I have continued full time employment with BAM Nuttall, where I am now working as a Site Engineer supervising my own area of works.
What spurred you to work towards gaining professional registration as an Engineering Technician (EngTech)? I felt that gaining professional registration as an Engineering Technician and becoming a Technician Member of the Institution of Civil Engineers (ICE) would show my competence and my commitment to the profession and enable me to further develop my career. It would also equip me as a role model for others within the industry, such as young people considering construction-related careers.
Describe your experience of the process of becoming an EngTech: Initially, going for EngTech was a daunting task, however my employer was very supportive throughout the whole process. They have a team dedicated to further learning within the business. An initial workshop was set up to explain the application requirements and process.  I then approached two of my colleagues and asked them to be my sponsors. With the support of my sponsors and college lecturer I prepared my application forms, experience report and review presentation within a few months.
I learnt a lot during the process, particularly how hard I found it to talk about myself and the work I have done. However, I learnt that the key to being a member of ICE is to share your learning and take pride in yourself and your work. I would not say that the journey was easy but it was very rewarding.
Following my review, I was fortunate enough to be nominated by my reviewers and shortlisted for the ICE Jean Venables Medal award. 'This award promotes the role of newly qualified Engineering Technicians. Candidates are put forward by their reviewers for showing exceptional qualities in their Technician Professional Review. Three are shortlisted and asked to present to a judging panel.' I presented to the judging panel in the final and won the medal this year.
What advice would you give someone considering professional registration as an EngTech?
If you are considering it, definitely go for it. It may seem like a mountain to climb but you will soon realise that you already do all the things that are required within your daily job.

What are your future career goals? Working in the industry on Europe's largest infrastructure project for the last four years has given me a wealth of experience and allowed me to develop my skills and knowledge of my field. I feel lucky to have worked on such an innovative, exciting and unique project. I have learnt about engineering principles, time management, the importance of communication and how to form good working relationships, all which I believe are critical aspects for successful project delivery. I hope to continue developing these skills throughout my career.

I will continue to promote the importance of Apprenticeships in construction as I believe they are an effective investment to fill the skills shortage that the industry is facing. For a sustainable future I think we need to continue investing in innovation, collaboration, working with the natural environment, promoting the industry to young people and challenging the gender imbalance. I hope to progress to Incorporated Engineer (IEng) soon and I have started BAM Nuttall's work-based further learning programme in order to achieve this. Further progression to Chartered Engineer (CEng) and potentially even Fellowship are somewhere on the horizon.