Callum O'Connell EngTech MICE
Published: 01/07/2016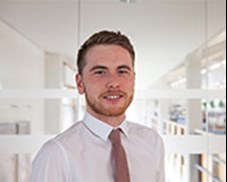 Education and qualifications: HND Civil Engineering
Which Institution are you a member of: Institution of Civil Engineers (ICE)
Grade of membership: Technician Member
Current job title: Highways Technician
Company: Arup
Length in current job: Ten years
Please briefly describe your current role and a typical working day
In my current role as a Highways Technician at Arup I am responsible for delivering innovative, cost effective and safe engineering solutions to meet our clients' requirements. I liaise with clients and pull together scopes of work and budgets for them. I also play a role in developing and mentoring others within the team in preparation for their professional reviews.
What is the greatest challenge you face in your job?
Juggling the demands of the client with the aspirations of the architect and the limitations of the budget.
What do you most enjoy about your job?
The experience I have gained from the different types of projects I am lucky to have been involved in. This experience has been of great benefit to my career. Also, working with the different people within Arup and being part of a great team makes me really enjoy my job. There is always someone who can help. If you love the work you do and the team you work with you'll always want to give 100%. Please provide a brief outline of your career so far I joined Arup in September 2006 having left school that summer. Between then and July 2011, I was enrolled on and achieved my Ordinary and Higher National Certificates (ONC, HNC) and Higher National Diploma (HND) in Civil Engineering on a day-release basis. During this time I rotated between the Rail and Bridges Departments at Arup, learning the various computer-aided design (CAD) packages before moving onto track design work in the rail team. There I worked on a variety of projects including Docklands Light Railway, London Olympics 2012 and the Cambridgeshire Guided Busway. In 2012, I joined an HS2 project team, based within the Highways Infrastructure Group, where I became more involved with highways design. The work I was doing and the great team I was working with prompted me to make a permanent move to this group.
What made you choose this career path?
While I was growing up, my granddad was an electrical engineer and always encouraged me to help him out with his work. He introduced me to CAD design from a young age. His love of all things engineering helped to guide my career down that path. As a school leaver, making the choice between going to college or gaining a job and qualifications through a technical trainee programme was an easy decision. Arup has a great attitude to the development of young apprentices and technical trainees, providing complete support in the growth of their staff from school leaver to young professional. I would recommend the apprentice route to anyone wanting to get into civil engineering because of the academic knowledge you gain, but most importantly the real world engineering skills that you pick up while at work.
What spurred you to work towards gaining professional registration as an EngTech?
There were not many professionally registered technicians at Arup so I thought that joining the Institution of Civil Engineers (ICE) and going for professional registration would not only boost my career prospects within the company but also boost the profile of the technician role, which is integral to every project. Achieving professional recognition as an EngTech shows my employer and clients that my skills as a technician have been assessed and validated by my peers in the industry, giving me greater credibility.
How did you become registered as an EngTech?
A few technicians at Arup were interested in becoming professionally registered so, with the help of an Arup training agreement, a timetable of dates and milestones was set prior to the ICE EngTech interview date. Bi-weekly lunchtime workshops were set up in order for us all to learn more about what was required, such as the correct writing style and what evidence was needed. This was done with help from other ICE members in our office. Closer to the time of the review date we each had a mock interview with senior members of staff, all good practice before the big day.
How has achieving EngTech benefitted your career?
Since gaining my EngTech status not only have I enjoyed a salary increase, but it has also given me a renewed drive to push my career forwards and show my employer my commitment to further developing my skills. Finally, being able to put EngTech on my CV and email signature does make me feel proud of my achievement and provides opportunities for career development that are unavailable without such a status.
What advice would you give someone considering professional registration as an EngTech?
Don't wait, just do it! The growing numbers of technicians making that next step to achieve EngTech means you don't want to be left behind. It also means that there is plenty of support to help you along the journey. It doesn't have to be taxing if you stay focused on the end goal.
What is your employer's attitude? Were they supportive while you were working towards professional registration as an EngTech?
Arup were fully supportive by providing mock interviews and guidance. The company organised for ICE to hold the interviews in our office and paid for all interviews, joining and membership fees, so there was no excuse not to get on with it. How does your employer benefit from you being professionally registered? Arup benefits by being able to show that their staff are committed to their jobs and take pride in their work. It provides clients with the confidence that the engineering staff working on their projects are competent, having been recognised professionally within their industry, and that they will provide the highest possible quality of work.
What are your future goals?
My next goal is to gain further technical knowledge and experience at Arup so that I can progress to a more senior technician role and apply to become an Incorporated Engineer (IEng).
Callum O'Connell EngTech MICE


Registered: 2016